Related document

Buying Guide for Kansas-Grown Fresh Fruits and Vegetables ( .PDF )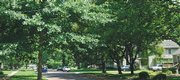 Welcome to our ongoing project, LJWorld.com/Green. Here you can find tips on how to make your life environmentally friendly and read stories about what others in the community are doing to live a more green lifestyle. Eat local, conserve resources, be green.
Nancy O'Connor's job is to educate. It's right there in her title: director of education and outreach at the Community Mercantile, 901 Iowa.
But some days she finds herself teaching things that used to be second nature.
"I had a woman the other day come to me and ask me, she said, 'I want to eat local, and I have no idea how to do it - I have no idea what's in season,'" O'Connor says. "And that is what happened when food from all over the world started flooding our market. I mean, people weren't eating artichokes in Kansas 100 years ago."
But when those artichokes are right there fresh, in a jar on the shelf or mingling with other produce in the salad bar, it seems that they're available year-round - and they are. Even though they are on mighty foreign soil.
When did the artichoke become a 365-day visitor in Kansas? Or, more pointedly, how and when did we lose our seasonal connection with the fruits and vegetables that nourish us? Experts say the cause is probably two-pronged.
First, airplanes and a global economy have made it easy to keep foods in season all year. As you drive to the store on icy roads, the fruits and vegetables of summer are being stocked after their transcontinental plane ride, ready for purchase.
"Transportation has not been every farmer's friend. It used to be people had some awareness of seasonality because they were forced into it. In human history that's a relatively new event. One hundred years ago, apples weren't taking plane trips from New Zealand," O'Connor says. "Our whole world view of food has become distorted by the artificial availability."
In fact, this has led to a complete disconnection with all types of food, says Mary Meck Higgins, associate professor and K-State Research & Extension nutrition specialist.
"They don't have any idea about the growing seasons," Higgins says of consumers. "They don't even know where milk and eggs come from, you know. They think it's at the store."
The second part of the equation is that we are at the store so much. Many of us have gotten away from raising any of our own food, says Stu Shafer of Sandheron Farm, which is located between Lawrence and Oskaloosa.
"People don't live on farms anymore, and ... although a lot of people garden now - but most don't - and if they do, they probably only grow a few things, tomatoes, maybe some green beans, peppers, sweet peppers," he says, "but they don't have this whole range of what grows at different times."
Because of this, Shafer and his farmer colleagues at Rolling Prairie Farmers Alliance decided to help out their customers. The Web site for the Community Supported Agriculture group, www.rollingprairie.net, boasts a calendar with typical seasonal crops. Shafer says the list is an approximation, but it has been something helpful to the group's CSA subscribers who may think tomatoes should come in season when salad greens do.
"We kicked around an idea of having a list of what comes in season at different times, and basically what I did was I just took a couple of years of the lists, week by week, of what we were bringing to Rolling Prairie and just put it in that table," Shafer says. "So, the idea was just to answer people's questions about what was seasonal."
How to relearn seasonal eating
O'Connor has seen many of those questions in her days at the Merc, such as the lady who wanted to eat locally but didn't know where to start. Higgins also has had her fair share of similar questions and because of that partnered with now-retired K-State professor Chuck Marr on a buying guide for Kansas-grown produce.
Both suggest using a mixture of guides and a good dose of awareness to get reacquainted with the seasonality of produce.
"I think one of the things is to go to the farmers' market, their local farmers' market, or when they're at the store sometimes there are signs that say where it was grown. And so trying to buy something that's more regional at least, if not local, but at least more regional, to help reduce the number of miles that food travels," Higgins says. "That's not going to work for everybody, but that would certainly be a place to start."
Higgins also says that learning extra skills aren't necessary to retrain yourself. Knowing how to cook isn't a necessity for eating seasonal food, she says.
"I would say you don't have to learn how to cook, because many of seasonal and local foods are wash, slice and eat," Higgins says. "They're really easy. Sometimes, you don't even need to slice them, you just wash and eat.
"Certainly, a lot of vegetables and fruits are the ultimate convenience."
Finding a balance
But of course it's not convenient if you go to the store to buy ingredients for a special meal and the ingredients are nowhere to be found.
Chris Wiltfong, manager of perishables at Hy-Vee, 4000 W. Sixth St., says stores have to cross the seasonal line, precisely because that's what customers are used to.
"There are a few commodities that people count on having: lettuce, tomatoes, onions, even potatoes and whatnot, apples ... It's going to be always available," Wiltfong says.
And if it's not available, watch out, because the customers will stop coming - and that's the last thing any food grower, producer or seller wants to have happen in any season.
"Customers, yeah, they'll come in and want a tomato in January and it won't be there and they'll have to go to the next store because their dish or whatnot has to have that," Wiltfong says. "So, yeah, I don't think there would be a revolt, but I think there would be definitely, from a grocery prospective, more cross-shoppers. We want to capture everybody we can when they come into the store."
Copyright 2018 The Lawrence Journal-World. All rights reserved. This material may not be published, broadcast, rewritten or redistributed. We strive to uphold our values for every story published.