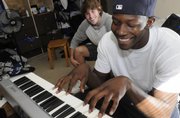 Mario Little was hanging out in Kansas University basketball teammate Conner Teahan's Jayhawker Towers apartment when he spotted a keyboard next to a computer.
"Plug it in. I'll play it," Little, a 6-foot-5, 210-pound tough guy born and raised on the South Side of Chicago, said defiantly.
"Man, you can't play," responded a skeptical Teahan, who took piano lessons as a kid growing up in suburban Kansas City.
"Just plug it in," demanded Little, who proceeded to perform a melody that would have made one of his distant relatives, Chicago blues legend Willie Dixon, proud.
Seeing is believing as far as KU sophomore Teahan - who recently bought the program Garage Band to install on his Mac - is concerned.
"Oh, he's good. He's got this one song he can play forever or as long as you want him to. I'm impressed with his skills," Teahan said of Little, last year's junior-college player of the year out of Chipola (Fla.) Community College, who lists basketball and music as his passions in life.
"Music is in his blood. He used to play keyboard and organ at my mother's church. Every time he comes home, they look forward to him coming by and playing," Mario's uncle, O'Keith Little, said of the congregation at Roseland Presbyterian Church.
Mario also has an open invitation to stop by and serenade at Chipola CC, where "he'd sit down at the piano and play ... and everybody would say, 'One more song, one more song,''' said coach Greg Heiar.
And he's welcome at Chicago's George Washington High, where he impressed on the court and in the band room from 2002 to '06.
"One time we were walking by and some students were in there playing the drums. Mario said, 'Let me see those sticks.' He had a little performance for 10 minutes,'' said Tommy Dobson, a former Washington High assistant basketball coach who also tutored Little at Chicago's Countee Cullen grade school.
"He's gifted," Dobson added.
All in the family
Little - he can play pop, R&B;, really whatever his audience wants him to play - took to both music and basketball in elementary school at the urging of his grandmother, Hazel Lucille, who raised him.
Also supportive were older brothers, Michael and Marcus, who realized those who stayed off the mean streets of Roseland had a chance to actually reach adulthood and get out of Roseland, a community plagued by drive-by shootings, drugs and gang activity.
"You hear the gunshots ringing you make a decision - stay in the gym or get in the street," coach/mentor Dobson said. "Mario had friends who were in gangs and didn't do the right thing. Three of his friends in grammar school were victims of drive-bys."
Roseland obviously is not for the faint of heart.
"When Mario was in high school, one of his friends was beaten to death with bricks and bottles. A friend of his in grammar school spent six years in prison and just got in trouble and will be back in prison again," uncle O'Keith said.
"He needed an anti-drug, something to keep him from drugs and gangs. Mario's love of sports, the love of the game, carried him through."
Raised rough
Little's South Side roots - "I grew up on 108th and Calumet," he says proudly - already have come in handy in his still-very-young KU career.
In spite of a painful stress fracture in his lower left leg, the undersized power forward scored 21 points, dished eight assists and grabbed seven rebounds in a Labor Day weekend rout of Ottawa in Ontario.
"It's nothing I can't bear. I'm from Chicago," Little told American and Canadian reporters after that game when asked about the pain.
Two weeks later, his leg feeling much better, Little expounded on the statement.
"Everybody knows what I meant by that. Chicago players are different from other players in the way we approach the game, like it's our last," Little said, adding, "I'm from the South Side of Chicago. You have to be tough to make it in life, not just basketball.
"Being from Chicago, you've got to be ready for anything. Anything can happen at any moment."
Anything ... as in something bad.
"I did some bad things growing up. There are some poisonous things outside," Little said, not citing specifics.
"Once I got to high school, I stopped completely. I saw the road I was going down. The friends I grew up with ... I don't have the same friends any more, really."
Mentor's guidance
Dobson, who started coaching Little when he was in the fifth grade, landed a job at Washington High and convinced Mario to follow him there, instead of choosing a high school closer to home ... say Julian, Simeon or Morgan Park.
"My house is on the South Side. Washington is on the East side. I took three buses to get to school. I had to leave an hour early. No breakfast or nothing that early," Little said.
"It was impossible to get back from school late at night (on the bus) because of the neighborhoods I had to go through. I had to get a ride home from the coaches or my friends' parents."
Despite some long days, Little thrived at Washington High, a non-traditional hoops power that went 26-4 his senior year.
The Little and DeAndre Liggins-led Minutemen lost by 15 points to Derrick Rose's Simeon High team in the city championship game, then two weeks later dropped a 53-52, five-OT decision to Thornwood in the greatest Super Sectional contest in Illinois state playoff history.
"He cried and cried after that loss to Thornwood," Dobson said of Little, who averaged 22.0 points and 12.0 boards per game his senior year in drawing scholarship offers (ones he had to turn down because of academic reasons) from Illinois, Michigan State and Northern Illinois.
Meeting Sir Michael
There were happier times at Washington High as well ... like the day his junior year Little rubbed shoulders with his idol, Chicago Bulls icon Michael Jordan.
"My coach (Dobson) called me and said, 'I've got a surprise for you. I'm going to get you something you want, but you have to be ready,''' Little said. "We got in the car. I wasn't sure where we were going."
The destination was Jordan's home in suburban Chicago.
"When we pulled up to the gate with '23' on there, I was kind of overwhelmed. I knew I had to be ready because I was about to play with Mike. I couldn't be starstruck," said Little, one of the chosen ones to be invited to play ball on the court at Jordan's mansion.
"He picked me to play on his team. We didn't lose a game," Little said. "I was invited back the next day. We got there late and there were 50 people waiting to play.
"I was down, thinking we drove all the way and I wasn't going to get to play. He picked me up over the 50 people there. We won every game. It's something I'll never forget."
Jordan counseled Little.
"I stood right next to him, leaning against him. I asked him what I needed to work on. He said I was always going left too much. He knew my weaknesses just from playing a few games with me. I knew right then I was talking to the greatest player ever. He helped me a lot."
Little still has something he picked up from Jordan - the 12-foot turnaround jumper Sir Michael made famous.
"I call it his 'deadeye, darteye' from midrange," Chipola CC coach Heiar said of the shot Little buried several times versus KU's three exhibition foes in Canada.
"He elevates so high and fades, there's nothing you (defender) can do about it. He idolizes Jordan. It looks just like Jordan's."
It says a lot about KU that Little - after a season in which he averaged 15.2 points and 5.5 rebounds per game for the 35-2 Indians - chose the Jayhawks over Kansas State and Illinois in recruiting.
Jordan's son, Jeffrey, was Mario's host on his recruiting trip to U of I.
"My teammates, the coaches, the school. It's Kansas," Little said, simply of his reasons for becoming a Jayhawk.
Vast repertoire
So what kind of player is Kansas getting in Little?
"Super tough," Chipola coach Heiar said. "One who never missed a practice, played through injuries, played through fatigue ... a kid who can handle getting his butt chewed by the coach. He's just tough. Where he grew up, every day trying to survive, you develop that toughness."
He's already impressed, not just by playing through the stress fracture in Canada, but by willingly playing out of position.
Little, who played power forward his freshman year and small forward his sophomore year at Chipola, was an inside player during KU's pre-Canada trip practices and games north of the border.
"I used to enjoy it down at the lower level," Little said of playing in the paint. "It's pretty tough now, but it's cool though. It's not as hard as it looks.
"I think it depends on the matchup (as to where he'll play his junior season)," he added. "I think our team this year can be very versatile. It depends where coach wants to put me or the twins. I don't know."
Coach Bill Self said now that the Morris twins (6-8 Marcus and 6-10 Markieff) are eligible, Little will play more on the perimeter than inside.
"We can move him around a lot, sort of like we did Julian," Self said of 6-8 Julian Wright. "He's just not near as tall as Julian."
"Inside or out. He doesn't mind. He loves the challenge. He has the heart of a lion and is a smart thinker on the court," O'Keith Little said of his nephew.
What does future hold?
Little is determined to make his grandmom (he has her first name tattooed on one wrist, her middle name the other) proud.
Coming from humble beginnings, he wants to make it big in life.
"I had a pretty rough upcoming (upbringing), but I always look at life like everything happens for a reason. It made me who I am today," Little said.
"Bad things have happened to me. A lot of good has happened to me. I've had people like my grandmother and uncle who helped me, a lot of people have helped me.
"I loved it at Chipola and I love it here already, especially my teammates."
Ones like roommate Chase Buford as well as Teahan, who insist KU fans will love Little the player and person.
"He's nice, at first a little quiet. Once you get to know him he has a great personality. He's funny," Teahan said.
And focused.
"We've talked. I tell him, 'You are at Kansas now, in the big time and have to act accordingly. You have to work harder,''' O'Keith Little said. "I tell him a man is defined by the things he does. I say, 'You just can't look like a man and talk like a man, but have to work hard and be responsible.'
"If he doesn't get any bad breaks I think he'll make it in athletics. If not I want him to open up all avenues available to him by getting that degree. I'm proud of him. His grandmother is proud of him. I keep my fingers crossed and pray every day he'll be the player and man we know he can be."
Copyright 2017 The Lawrence Journal-World. All rights reserved. This material may not be published, broadcast, rewritten or redistributed. We strive to uphold our values for every story published.