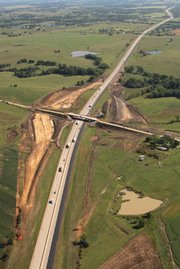 A new interchange on the Kansas Turnpike in Leavenworth County remains on track for completion in November 2009, but at least one municipal leader in Eudora is looking even farther down the road.
Mayor Tom Pyle considers the $16.7 million project - which is adding exit 212 to the turnpike and widening a 5.8-mile stretch of Leavenworth County Road 1 - as a major benefit for Eudora, giving the town a viable north-south access to the turnpike and on to Lawrence and Topeka to the west and Kansas City to the east.
But the interchange project also could lead to more, Pyle said. First, he said, is a bridge on Douglas County Road 1061 at the northern edge of Eudora crossing two sets of railroad tracks. Next is an extension for Kansas Highway 33, running north from U.S. Highway 56, past the new intermodal hub in Gardner and plugging into Douglas County Road 442, which already has an exit on Kansas Highway 10 at the eastern edge of Eudora.
"I can foresee the day where it will have the traffic on it - maybe not in my lifetime - that we'll need a four-lane in there," said Pyle, now 79. "It may not be two years, or five years, but it's coming."
But first things first: engineers are studying ways to grapple with the expected increase in traffic once the interchange opens, Pyle said. A truck route likely will be designated to prevent heavy trucks from coming into downtown Eudora, likely through a shift onto Church Street, to accommodate such trucks as they make their way to K-10.
Meanwhile, work on the interchange itself continues. The entire project remains on schedule for completion in November 2009, said Ryan Blosser, project superintendent for Hamm Cos., the Perry-based general contractor.
Look for four new toll plazas - one on each ramp - to start being built in about four weeks. Each of the interchanges will have booths equipped with Automated Toll Payment Machines.
The Kansas Turnpike Authority is spending $6.2 million for the interchange. Leavenworth County is financing the other $10.5 million to rebuild the stretch of County Road 1, a section that runs from U.S. Highway 24, about a half-mile south of Tonganoxie, to Kansas Highway 32 south of the turnpike.
The road will go from two narrow lanes and even narrower shoulders to a "super two" configuration, featuring wider lanes and roadside shoulders big enough to accommodate stalled, parked or pulled-over vehicles without impeding the flow of passing traffic.
"And we're knocking all the hills down, and filling the low spots, to make it safer," Blosser said.
Just a few years ago, the road handled about 1,000 vehicles per day, said Mike Spickelmier, Leavenworth County engineer.
"Realistically, we could expect the traffic to increase by 50 percent immediately," Spickelmier said. "And the road will have the capability of handling at least 2,000 cars a day comfortably."
The project also will give Eudora residents quicker access to the turnpike. At the Kansas River, Leavenworth County Road 1 turns into Douglas County Road 1061, which runs south through Eudora to Kansas Highway 10.
In Douglas County, south of the river, County Road 1061 already handles about 2,500 vehicles per day - a total Pyle expects to see accelerate in the coming years.
"It's going to be a good thing," Pyle said. "It's going to be a real good thing to get access east and west (on the turnpike)."
Copyright 2018 The Lawrence Journal-World. All rights reserved. This material may not be published, broadcast, rewritten or redistributed. We strive to uphold our values for every story published.