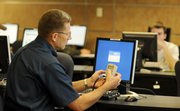 Most of us have been trained since birth to turn off the lights when we exit a room. When we don't, we can almost hear our parents grumbling in the background that money doesn't grow on trees.
And yet we can walk out the office door guilt free with the computer still humming away.
To Craig Hansen, an energy conservation and utility manager for Kansas University's Facilities Operations, the sin is just the same.
And it's a mindset he is trying to change.
By his calculations, an average personal computer running at full strength sucks up about 100 watts. Running all day, every day for a year, it costs about $60 to power one. The carbon emissions are the equivalent of 88 gallons of gasoline.
Sixty dollars might not sound like a lot. But factor in the 30,000 computers that are estimated to be on KU's campus and you get an energy bill of around $1.8 million.
Of course, not all people leave their computers on 24 hours a day, seven days a week, but Hansen believes conservation measures could save the university a significant sum.
Since coming to KU this summer, Hansen has been making the campus rounds with a Kill A Watt Electricity Usage Monitor in tow.
The beige-brown box is to energy what calorie counters are to food. Plug the meter into a socket, connect it to a appliance cord and suddenly you realize your coffee maker is an overindulgent, energy-guzzling pig.
When compared with coffee machines and flat-screen, high-definition televisions, computers aren't the worst energy offenders.
But they are fairly easy targets.
Hansen said at the very least users could change their preferences so that the monitor goes off after one to five minutes of inactivity. The step is something that doesn't typically require administrative approval. And it saves about 30 watts of electricity.
Changing the settings for powering down a computer after longer periods of inactivity can be a little more difficult because many users in office environments don't have the authority to change them. And they can choose between standby or hibernation mode, which can mean different things for different computers.
Hansen said his research indicates that placing your computer in hibernation mode allows you to partially shut down the computer, but still save the documents you were working on and keep them on your desktop. Hibernation mode should be enacted after not using the computer for 20 or 30 minutes, Hansen said.
And, Hansen warns to not be fooled into using screen savers to save on electricity. They can take up just as much, if not more, energy than a fully functioning computer.
He does encourage users to completely shut off their computers - and printers, copiers and fax machines - when they are done for the day.
"When you leave for the day or are gone for the weekend, if you turn your computer clear off, you are automatically saving a 100 watts of electricity," Hansen said. "In these days of increasing electricity costs that can add up over time."
As for now, Hansen is working with IT departments throughout KU to develop a protocol for when computers should be shut down and what mode works best.
As a result, Hansen hopes it will be the younger generation that knows the value of switching off electronic equipment before exiting a room.
Copyright 2017 The Lawrence Journal-World. All rights reserved. This material may not be published, broadcast, rewritten or redistributed. We strive to uphold our values for every story published.