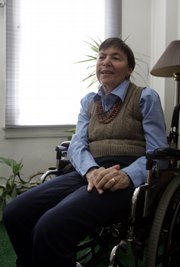 New York — Kathy Leeds grows animated as she describes the courses she is taking this fall, including classes in current events, art and literature.
But Leeds will never step foot on a campus or in a classroom. The 79-year-old widow has multiple sclerosis and uses a wheelchair to get around her Manhattan apartment.
Leeds is one of about 500 people enrolled for the fall semester in a telephone-based educational program for homebound seniors called DOROT University Without Walls, believed to be the largest program of its kind in the country.
The curriculum includes more than 250 courses and runs the gamut from understanding feng shui and poetry writing to discussions on moral, ethical and philosophical issues and a discourse on women of the progressive era. Informational classes on money management, Internet surfing and medicine also are available.
"It gets me out emotionally. It releases me from the four walls around me," said Leeds, who has participated in the program for 12 years. Her fall selections include a course on the life and work of author Doris Lessing and a class on recording personal histories.
While the majority of the students are from the New York area, seniors in Alaska, Iowa and Texas also participate. The oldest was 105, but died last year.
Healthy changes
As the nation's population grows older, Experts say programs like University Without Walls help engage seniors' minds and expand their social network by giving them something stimulating to do - factors helpful in diminishing the onset of depression, dementia and other ailments.
The latest Census figures show that 73 million Americans - nearly 20 percent of the total population, will be over 65 by 2030. Within that group, 35 to 40 percent will be over 85, said Dr. Leslie Libow, a geriatric specialist at the Jewish Home Life Care System affiliated with Mount Sinai School of Medicine.
The program was started in 1989 by DOROT, a New York-based senior services agency that partners with some of New York City's major medical and cultural institutions in offering the classes. They include Montefiore Medical Center, the Whitney Museum of American Art, the Museum of Modern Art and the Museum of Natural History; many provide free material in advance of a class, like large format art reproductions.
For 87-year-old Sarah Levinson, whose herniated disc and sciatica keep her from going out as much as she'd like, the breadth of the courses and their accessibility are unbeatable.
"When it's bad weather, cold, wet or hot, even when I don't feel well, I can get to the class," said Levinson, a Manhattan widow who's penned a poem on how the program rewards her personally. "The socialization, the interaction is wonderful."
The classes are taught by professionals in the world of art, history, science and medicine who often volunteer their time. Each 50-minute class meets once a week for up 18 weeks. Class size is kept small, no more than 10 people, to keep discussion lively. Fees also are low: $15 per course.
Making contacts
Outside experts and people involved with the program say it provides a hugely valuable service for homebound seniors.
"They say to me 'I have something to talk about now (with friends and family). I have a life. I don't have to wait for someone to take me out. I can just pick up the phone, and I'm there,"' said program director Bonnie Jacobs.
"It's an extraordinary way to combat a sense of isolation," said Nechama Liss-Levinson, a Long Island psychologist who introduced her mother-in-law to the program. "The idea that our bodies and our health are influenced by our emotional and intellectual well-being is well documented."
Copyright 2018 The Associated Press. All rights reserved. This material may not be published, broadcast, rewritten or redistributed. We strive to uphold our values for every story published.