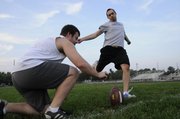 Opponents of construction projects at Lawrence High School shuffled out of City Hall last Tuesday night after watching city commissioners approve projects that would add athletic fields at LHS and Free State High School.
They had lost a battle.
Neighbors had hoped commissioners would defer action - providing time for further discussion between neighbors and the school district.
Well, the neighbors now might have time for that, as the Lawrence school board has decided to put off a vote on the projects for four weeks, until Oct. 13.
"We're going to take a step back," said school board President Craig Grant. "We just need to make sure our engineers can do what we need to get done, in terms of doing what the city wants to get done."
Superintendent Randy Weseman said the move buys the district time to re-evaluate its plans, in light of a City Commission mandate that a new LHS football stadium be moved 20 feet farther from private property.
"I don't want to cobble it together that fast," he said.
Moving forward
Tom Bracciano, the district's division director of operations and facility planning, said last week that the district hoped to break ground by Oct. 9. Even though that won't happen, he says the projects will move forward. He expects baseball facilities will be ready for use in the spring. Bracciano said the football fields would be ready by springtime, giving LHS girls soccer players a place to compete while soccer fields are built.
Last week, Weseman met with engineers to review revisions to the blueprints. He'll take time this week to meet with principals, athletic directors and coaches at the two high schools.
Weseman said the school board hopes to conduct further discussions with opponents of the LHS project. There has been no visible opposition to the Free State construction.
Funding discussions continue
Weseman also said the district continues to discuss how the projects will be funded. Among the options: private financing, direct leases and performance contracting - which allows governments to pay for projects during several years if they save on energy and water, installing artificial turf and special lights.
Bracciano said the district would save significantly by installing AstroTurf. Currently, he said, the district spends about $275,000 to maintain fields. He said costs would drop to $5,000 a year with the artificial turf.
At a school board meeting in January, district officials said the overall plan would cost $14.5 million. While some items are still being negotiated, Weseman said he's confident the price tag will be less than $10 million, and perhaps as low as $7 million.
Grant said $2.3 million left over from a 2005 bond issue will be used to fund part of the project.
Self's foundation out
In May, Weseman mentioned the possibility of working with Kansas University men's basketball coach Bill Self's Assists Foundation to build a district health and wellness center. And last year, a study was conducted measuring the feasibility of indoor and outdoor sports complexes. It would cost at least $21 million to build a new indoor sports fieldhouse, and another $18 million to construct an outdoor recreational complex for Lawrence youths. Both ideas have been pushed by local group PLAY, which stands for Partners for Lawrence Athletics and Youth.
Weseman said both those ideas are on the shelf for now, though several concepts from the PLAY study are being integrated into the high school projects.
Neighbors are 'sick'
Residents of the Centennial neighborhood are "sick" about the plans to move forward, said Joan Stevenson, who for the past 52 years has lived in her home in the 2000 block of Alabama.
"No matter what we say or do, it's still going through," she said. "It's just too much for this small space. ... It's just an awful lot of a footprint to put in the back of Lawrence High."
Bob Tryanski, who also lives on the 2000 block of Alabama, said there's perception that the neighbors are "against progress." That's not the case, he said.
"I think it's really important that everybody understands that in no way, shape or form are the neighbors opposed to the proposed improvements to the athletic fields, in terms of safety and the students having the best fields to practice on," he said.
The problem is that the neighbors are unconvinced that the fields will be used only for LHS activities and continue to worry about light and noise pollution and traffic problems they say will come with the new facilities.
Tryanski credits the school district with listening to neighbors' concerns about drainage problems and creating a caveat in the plan to alleviate some of those problems. He thinks more solutions will come out of discussions between neighbors and the school district.
"It seems like there's a way to get to a point where everyone wins," he said.
The passivity with which the neighbors have acted may be coming to an end, as some have hinted recently that they will take legal action against the school district.
Last Tuesday, attorney Price Banks, who represents the Centennial Neighborhood Association, again asked the district to re-evaluate its plans.
"We're (not) asking you to deny it," he told the commission. "We're asking you to perfect the project."
Copyright 2018 The Lawrence Journal-World. All rights reserved. This material may not be published, broadcast, rewritten or redistributed. We strive to uphold our values for every story published.