On the street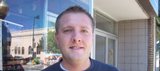 'My Life,' by Bill Clinton. I thought it was really interesting. I thought he had an excellent eight-year term as president, especially compared to what we've had recently. So it was interesting to learn about some of the things that went on behind the scenes.
Fiction
1. "Dark Curse," by Christine Feehan (Berkley, $24.95). Lara Callandine, an expert in the field of ice-cave study, joins with Nicholas De La Cruz to search for the truth about their pasts; a Carpathian novel.
2. "The Book of Lies," by Brad Meltzer (Grand Central, $25.99). The murder of the father of Superman's creator, Jerry Siegel, is linked to the biblical story of Cain and Abel.
3. "American Wife," by Curtis Sittenfeld (Random House, $26). A pretty librarian marries the alcoholic son of a wealthy political family who somehow becomes president.
Nonfiction
1. "Stori Telling," by Tori Spelling with Hilary Liftin (Simon Spotlight Entertainment, $24.95). A memoir from the TV star.
2. "The Obama Nation," by Jerome R. Corsi (Threshold, $28). The Democratic candidate as an extreme leftist, from a co-author of "Unfit for Command: Swift Boat Veterans Speak Out Against John Kerry."
3. "Are You There, Vodka? It's Me, Chelsea," by Chelsea Handler (Simon Spotlight Entertainment, $24.95). Humorous personal essays from the stand-up comedian.
Copyright 2018 The Lawrence Journal-World. All rights reserved. This material may not be published, broadcast, rewritten or redistributed. We strive to uphold our values for every story published.