Audio Slideshow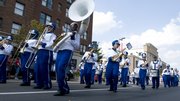 KU Band Day Parade
Over 40 high school marching bands performed on Saturday, Sept. 20, 2008 in the KU Band Day Parade in downtown Lawrence.
Massachusetts Street on Saturday was a sea of crimson and blue and black and gold and green and yellow and orange.
Kansas University's Marching Jayhawks led more than 3,000 musicians and performers in the 61st annual Band Day festivities, which included a parade downtown to be followed by a halftime performance during KU's game against Sam Houston State.
"We want to be the loudest and the one who sounds the best and the one that's marching all together - we want to be perfect," said Lana Dominguez, a junior at Tonganoxie High who marched with her school's band.
Roughly 45 bands participated in Saturday's event, up from 32 bands last year, said David Clemmer, director of athletic bands at KU.
"I think the success of the football team, the success of the Marching Jayhawks - you put that together and there's an excitement about being here for this game," Clemmer said.
Buoyed in part by successful sports seasons last year, the Marching Jayhawks have seen a rise in membership from 177 last year to 252 this year.
Cassie Merryfield, a KU junior who plays the flute for the Marching Jayhawks, said the football team's Orange Bowl win and the basketball team's national title, coupled with a recruitment push, helped to attract more students.
"I think the success of last year really helps us out," she said. "A lot of kids were really interested and they want to go to bowl games this year."
For the high school performers, Saturday offered a unique performance opportunity.
"It's always cool to be part of something where there's lots of people coming together for one thing and one purpose," said Shannon Roberts, a senior at Baldwin High School who participated Saturday. "It's just incredible to be in there with thousands of kids around you. You can just feel the synergism."
As Kirk Yager, a Lawrence High School junior and section leader in the marching band, waited for the start of Saturday's parade, he said he enjoying getting everyone pumped up for the performance.
"It just feels good to put on uniforms and show all these people what Lawrence High is made of," he said. "KU's feeling the same way. Free State's feeling the same way. Everybody wants to show these people what their band is made of."
Copyright 2017 The Lawrence Journal-World. All rights reserved. This material may not be published, broadcast, rewritten or redistributed. We strive to uphold our values for every story published.