Photo Gallery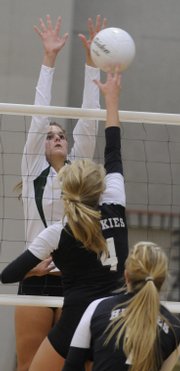 FSHS volleyball vs. Blue Valley NW
"Guess we're going three."
Those were the words uttered by Free State High volleyball coach Nancy Hopkins to Shawnee Mission Northwest coach Holly Davidson moments after Davidson's Cougars knocked off the Firebirds in Game 1 of their match Thursday at FSHS.
Cocky chatter from the coach of a traditional powerhouse? Hardly. More like playful banter from a veteran leader coaching against a former player.
Not too long ago, Davidson played for Hopkins in her juniors program in Lawrence, and Thursday night the two were engaged in battle during the nightcap of an otherwise uneventful night.
After watching Free State breeze by its first two opponents - 25-14, 25-16 vs. Blue Valley Northwest and 25-16, 25-22 vs. SM South - Hopkins found her squad playing from behind in the final match of the evening.
No problem.
Through focus and determination, Free State squeaked out a 25-23 victory in Game 2, making good on Hopkins' early promise. The Cougars and Firebirds were headed to Game 3. Twenty-five minutes later, Free State left the gym with its third victory of the night, via a 25-16 victory in the finale.
The second game was nip and tuck the entire way, as the teams battled through 11 ties and six lead changes.
Senior Taylor Manning flashed her aggressive side, and junior Chantay Caron recorded six kills and two blocks in the victory. It was only the start of what was to come.
"Our communication was not so hot in the game we lost," Manning said. "But we just fought through it. Before the third game, Hops told us to go out and make a statement and we did. Our sets were good, our passing was good, it was just a great all-around game."
Just about everything went right for the Firebirds in the final game. Manning continued to rip kills in the middle of the floor, Caron remained nifty with her left hand, even senior transfer Melissa Burch, who endured a tough night, found reason to smile, recording two big time kills in the game. Her first, which gave the Firebirds a 15-7 lead, sent a wave of relief over her face. The second put the Firebirds up 17-11 and all but ended SM Northwest's meager threat.
The play of the game came from senior Danielle Augustine. On the rally following yet another Manning kill, Augustine found herself tucked between the net and the sideline in front of the scorer's table. With an air of calmness and the smooth look of a poker player, Augustine reversed her hand and tipped the ball backwards over her head and onto the SM Northwest court. The Free State bench erupted. None of the blasts that preceded Augustine's finesse move brought her teammates to their feet. But this created hysteria.
"Dani's been working on that all week," senior Sierra Dickson said. "And no one saw it coming. It was awesome. We're definitely happy we won. Losing was not an option."
The Firebirds were not perfect Thursday. They made far too many bad passes, struggled with spacing at times and remained vulnerable to tough serves. But they were outstanding in the only category that mattered - the win column.
"Three wins and no losses is always a good night," Hopkins said. "In the first two matches we saw some things defensively that we've been working on and that was good. And it's good for us to know that there are teams out there that can challenge us. I like for us to be tested like this because when it came down to it, we got it done."
The wins improved the Firebirds to 10-2 on the season and kept them unbeaten (4-0) in Sunflower League action. Next up, Free State will travel to Olathe South next Thursday.
Copyright 2018 The Lawrence Journal-World. All rights reserved. This material may not be published, broadcast, rewritten or redistributed. We strive to uphold our values for every story published.