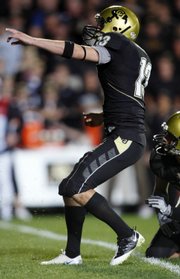 Boulder, Colo. — Aric Goodman made a 25-yard field goal in overtime to give Colorado a 17-14 victory over No. 21 West Virginia on Thursday night.
The Mountaineers had the ball first in overtime, but Pat McAfee's 23-yard attempt clanged off the left upright.
Cody Hawkins threw two first-quarter touchdown passes, and Rodney Stewart ran for 166 yards, the most ever by a Colorado freshman, to help the Buffaloes improve to 3-0 for the first time since 2004.
West Virginia quarterback Pat White ran for two touchdowns and 148 yards, and Noel Devine finished with 133 yards on the ground.
The Mountaineers (1-2) have lost consecutive road games for the first time since 2003. They lost at East Carolina, 24-3, on Sept. 6.
After winning the overtime coin flip, Colorado elected to go on defense first. West Virginia stalled out after driving to the six, and McAfee missed for the first time this season. He was 3-for-3 coming into the contest.
The Buffaloes ran four plays and then trotted out Goodman for the kick. He knew it was good the moment he hit it, running down the sideline as the crowd began to storm the field.
White, the two-time Big East offensive player of the year, scored on runs of 6 and 39 yards, giving him 30 rushing touchdowns in his last 23 games.
White has 3,814 yards in his career, moving him into third place on the NCAA's quarterback rushing list. He vaulted by Kent State's Joshua Cribbs with a 12-yard run in the first quarter. White is 476 yards away from breaking former Missouri star Brad Smith's mark.
The left-handed-throwing White was held in check through the air, finishing with just 43 yards, his lowest output since also throwing for 43 against Maryland on Sept. 14, 2006. He had minus-5 yards at halftime.
Hawkins came out firing the football, throwing touchdown passes to Josh Smith and Patrick Devenny in the first 4:50, the fastest pair for Colorado to start a game in nearly seven years.
Smith got behind the West Virginia secondary for a 38-yard touchdown on the opening drive, and Devenny beat a linebacker on a pattern straight up the middle for a 13-yard touchdown, giving the Buffaloes an early 14-0 lead.
White got West Virginia on the board with a six-yard touchdown run, the Mountaineers' first rushing score of the season.
Copyright 2018 The Associated Press. All rights reserved. This material may not be published, broadcast, rewritten or redistributed. We strive to uphold our values for every story published.