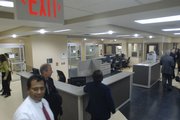 When it comes to patient care, Lawrence Memorial Hospital earned a first-place blue ribbon.
Actually, make that five.
It received the highest ranking in five of 10 patient categories when compared with 17 competitors in the Topeka and Kansas City area.
For example, 87 percent of LMH patients reported that "their doctors always communicated well" compared with 75 percent at Kansas University Hospital or 71 percent at Research Medical Center in Kansas City, Mo., which received the lowest rating in that category.
The U.S. Department of Health and Human Services began ranking patients' hospital experiences as part of a new database of information that is searchable on a Web site: www.hospitalcompare .gov.
When the first rankings were released in March, LMH garnered three first-place honors. Since then, the percentages have gone up in every category. LMH officials are especially pleased to have earned the highest percentage - 79 - when it comes to recommendations.
"That is a very important area to score well in because that is a reflection of the overall environment," said Jeff Novorr, LMH vice president and compliance officer.
The latest results were announced Wednesday at the monthly board of trustees meeting.
While the members were pleased, Dr. Mark Praeger, a board member, pointed out that work remains, such as in the category of percent of patients who reported that they always received help as soon as they wanted. Topeka's Stormont-Vail HealthCare finished in the top spot with 73 percent; LMH came in third with 65 percent, which was much better than the 43 percent scored at Research Medical Center and Centerpoint Hospital, both in the Kansas City metropolitan area.
"Certainly, there are areas that we can continue to do better and there always will be. : We believe that we are making good progress and taking care of our patients' needs and addressing a majority of their concerns," Novorr said.
LMH CEO Gene Meyer said the survey shows that when it comes to health care, what matters most is staff and care, not necessarily state-of-the art facilities like the new $250 million Centerpoint Hospital in Independence, Mo. Centerpoint received the lowest or near the lowest score in every category.
"This is a testament to our staff and physicians," Meyer said.
Copyright 2018 The Lawrence Journal-World. All rights reserved. This material may not be published, broadcast, rewritten or redistributed. We strive to uphold our values for every story published.