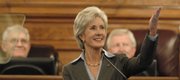 Kathleen Sebelius is the nominee for Secretary of Health and Human Services in Obama's Cabinet. She has served as Kansas' governor since 2002 and before that was insurance commissioner and a state representative.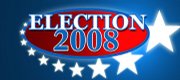 In-depth coverage of the candidates and the issues, all leading up to the Aug. 5 primary and the Nov. 4 general election.
Topeka — The executive director of the Kansas Republican Party on Wednesday said Gov. Kathleen Sebelius was "off her rocker" for comments she made in Iowa while campaigning for Democratic presidential nominee Barack Obama.
Speaking on Tuesday to a group in Iowa City, Sebelius was asked about why the election was so close.
"I think that the notion that, 'By the way, have any of you noticed that Barack Obama is part African-American?' I think that is for a number of people difficult," Sebelius said, according to a report from The Associated Press. "I think we need to talk about the fact that that is a real issue."
The remarks drew comments of outrage from Republican Party officials.
Christian Morgan, the executive director of the Kansas GOP, joined in.
"Pure and simple, Sebelius is off her rocker with this one, once again, and is playing one of the most tired and divisive political games ever," he said in an e-mail to reporters. "Her divisiveness is old and awkward and is taking the focus off the real issues in the campaign," he said.
Sebelius' spokeswoman Nicole Corcoran declined to respond to Morgan's comments.
Morgan also said that Sebelius tried to call Republicans racists. An earlier version of the story by the AP said Sebelius accused the GOP of using code language, but a later version was written to correct that to show that her remarks were not directed toward Republicans.
Copyright 2018 The Lawrence Journal-World. All rights reserved. This material may not be published, broadcast, rewritten or redistributed. We strive to uphold our values for every story published.