Photo Gallery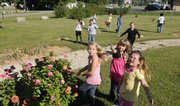 Children's Learning Garden
Perry — Gretchen Byer, a teacher at Perry Elementary School, recently sent me a proud e-mail about the work that the instructors and students had been accomplishing in their relatively new garden. It's aptly coined the Children's Learning Garden.
"It's an unofficial city park, but really it is a place to learn," Byer says. "It is a place to beautify the land and teach with hands on behavior."
The garden is situated just north of the elementary school, with a large, colorful sign to greet visitors and to give credit to the children for creating, establishing and keeping up the pretty space.
It is clear this was just an unused, empty field a couple of seasons ago. Not exactly an eyesore but certainly not a destination or even an attraction to passers-by, birds, animals or even insects. It was literally just a grass and weed mixture of approximately an acre of land.
"A committee of teachers and administrators hatched the idea in the fall of 2005," Byer says. "There was this lot just north of the school that was not being used. We thought it was a perfect place to develop a nature study site, an outdoor classroom where kids could see things growing and enjoy being outside while learning about science, writing, running around and so on."
The garden is in its infancy, but big trees are on the horizon for this once bare, unloved sliver of earth. Dozens of young sapling trees have been planted by the children.
"The kids have planted trees in the outdoor classroom," Byer says. "Each classroom planted their own tree in the spring of 2006. We wanted to focus on native species. That's why you'll see cottonwood, oaks, persimmons, pawpaw, dogwood and locust trees growing. They are suited for our climate and we wanted the kids to become familiar with Kansas species. The same goes for flowers; mostly all are native to this climate and serve the double benefit of attracting birds and butterflies."
The garden has a lovely little pebble path lined with larger boulders, and as you walk along the trail you'll spy iris, hollyhocks, lilies, rudebekia, cone flower, rose of Sharon, zinnias, marigolds, cosmos, butterfly bush, sage, dahlias and a magnolia tree to name a few.
The children at Perry Elementary are lucky they have a lot of helping hands in and around their community, people who obviously feel this project is a worthy endeavor. Funding has come from the Perry City Council, the local parent-teacher organization, Westar Energy and the school district, among other sources.
In fact, the Westar Energy Green Team just built a shelter with benches and tables for the children to have an outdoor classroom.
As the pebbled path continues next to many of the young sapling trees are birdhouses, it is clear that turning this once empty, barren space into a worthy garden has been a joint effort and a labor of love.
"It's been a lot of work, but it has been incredibly satisfying too," Byer says. "We've had numerous work days where students, parents, teachers, boy scouts and girl scouts have planted, cleaned, mulched and any other garden chores that needed to be tended to. The scout troops have donated blue bird houses and have planted a butterfly garden."
If we continue to follow the path soon it leads to a lovely little pondless water feature boasting two waterfalls and a symphony of trickling, splashing and dripping sounds. The pond is encircled by sedums, Russian sage, liatris, veronica, zinnias, lamb's ear and some yellow and maroon lilies.
"We had the water feature added last fall which provides a resting place for birds and insects and a relaxing spot for people to sit and enjoy the sounds and the activity of the wildlife," Byer says.
It is quite refreshing to see flat, unused, dull land reborn with color, texture, water, human activity and with all of these improvements comes animal and insect activity as well. It is incredibly refreshing to see schools respond to the needs of not only their pupils but the community of Perry by creating this soon-to-be outdoor haven.
Byer, too, can see the forest through the old farm land.
"This is a large garden that is in its infancy," she says. "Many of the trees are still small, but each year they'll provide more shade and shelter for birds and people in our community. We want it to become a working extension of our school."
Copyright 2018 The Lawrence Journal-World. All rights reserved. This material may not be published, broadcast, rewritten or redistributed. We strive to uphold our values for every story published.