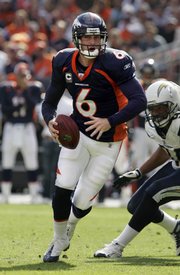 Englewood, Colo. — The Denver Broncos have suddenly morphed into a pass-happy offense, relying heavily on the rocket right arm of Jay Cutler.
The Broncos have loosened up the playbook, giving the boot to their familiar bootleg and taking more chances down the field. The wide-open approach has the Broncos leading the league in offense, averaging 463.5 yards a game.
See what happens when you emulate New England and Indianapolis?
"This is a copycat league," Cutler said. "Everyone looks at everyone, takes something, tweaks it a little bit."
The Broncos have tweaked their offense, keeping the ball more in the hands of Cutler. Just like Indy does with Peyton Manning and New England with Tom Brady (before his injury).
The third-year quarterback threw the ball a career-most 50 times as the Broncos rallied for a 39-38 win over San Diego on Sunday.
Truth is, Cutler would've preferred to have thrown it even more.
"I'd like to be in the shot gun every play," Cutler said.
Eddie Royal and Brandon Marshall certainly wouldn't mind that, either. The talented tandem have decimated defensive backs so far this season.
The rookie Royal caught the game-winning touchdown pass - and then the subsequent 2-point conversion - against the Chargers, his second big performance for the Broncos. He also had a nine-catch, 146-yard showing against Oakland last week as Marshall sat out as he served a one-game suspension.
"I think Eddie took the world by storm and everybody knows what he's capable of doing," Marshall said.
Marshall definitely made up for missing the opener by catching a team-record 18 passes for 166 yards and a touchdown on the Chargers' secondary. For that, Marshall was recently named the AFC Offensive Player of the Week.
"It didn't even seem like that many balls," said Marshall, who was two shy of tying Terrell Owens' NFL mark of 20 set on Dec. 17, 2000. "I was just trying to stay focused and stay in the game."
Marshall now has 55 receptions spanning his last five games, the most in league history over any five-game stretch. Marvin Harrison had the mark, grabbing 52 in five games during the 2002 season.
"I'm definitely happy to be back out there and be a part of such an explosive offense," Marshall said.
It wasn't long ago that Marshall was in Cutler's doghouse. Marshall's off-the-field troubles were wearing on the quarterback and he lashed out at his top target.
Now, they're helping the Broncos pile up impressive numbers, averaging 40 points a game.
Copyright 2018 The Associated Press. All rights reserved. This material may not be published, broadcast, rewritten or redistributed. We strive to uphold our values for every story published.