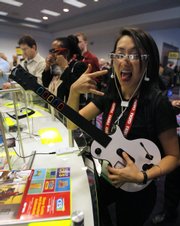 Chicago — Tucker Moore earns solid grades, runs cross-country at Lake Forest High School and is working to become an Eagle Scout.
Still, when facing a tough math problem or moral dilemma, the 16-year-old sometimes asks: What would Link do?
At Moore's skillful hand, Link - the daring hero of Moore's favorite video game, Zelda - has rescued a princess and freed the kingdom from tyranny.
Although his demons differ, Moore said the problem-solving he fine-tuned while playing the adventure game has helped in his daily life.
"I can't go out and defeat the giant monster alligator thing, but I like getting out and helping people," Moore said.
Indeed, a report released Tuesday suggests that video games may not be as harmful as many people think when it comes to how teens interact with one another and the world around them.
"We had expected we might well find the frequency of game play undermines civic engagement. That was a surprise of the study. What we found was it really had no effect. Teens who play frequently were just as involved as kids who play infrequently," said Joseph Kahne, a co-author of the report and education professor at Mills College in California.
Researchers did find a correlation between how teens game and their social development.
Children who game together - whether in family basements or after-school clubs - are more likely to volunteer, raise money for a charity or participate politically than those who play alone, according to a survey of 1,102 teens by the Pew Internet and American Life Project in Washington.
The engagement did not appear to be affected by how often the teens played or the types of games they chose.
Sixty-four percent of those who play video games with others in the room said they have raised money for a charitable cause, for example, compared with 55 percent of those who are in a room alone when they play.
Nine of every 10 teenagers surveyed said they play some type of video game, a telling sign of how ubiquitous gaming has become.
Despite controversies over sexual and violent content, nine video games were sold every second last year, according to the Entertainment Software Association. More than one-third of U.S. households now have a gaming console.
"The gaming landscape is incredibly broad. It's played by young teens and old teens, by boys and girls. This is really every kid," said Amanda Lenhart, study co-author and Pew senior research specialist.
"That's why this is so important: Because kids are doing it and they are doing a lot of it."
Of course, it's not just kids who play video games. The fan base for gaming has diversified along with the variety of titles, which are increasingly interactive and often encourage group play.
But the explosion of games also has drawn critics whose concerns more than a decade ago prompted the creation of a game-rating system akin to movie ratings.
The Parent Television Council, a group committed to shielding children from sex, violence and profanity, acknowledges games can be a social outlet for kids, much like playing board games or catch, but it cautions parents to be vigilant.
"Just because a child is into sports, you wouldn't want them to work out every waking moment. You'd want them to diversify their life a bit, read a book or hang out with friends. Same thing with video games," said Gavin McKiernan, the group's grass-roots director.
Copyright 2018 The Lawrence Journal-World. All rights reserved. This material may not be published, broadcast, rewritten or redistributed. We strive to uphold our values for every story published.