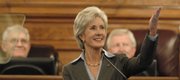 Kathleen Sebelius is the nominee for Secretary of Health and Human Services in Obama's Cabinet. She has served as Kansas' governor since 2002 and before that was insurance commissioner and a state representative.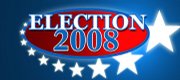 In-depth coverage of the candidates and the issues, all leading up to the Aug. 5 primary and the Nov. 4 general election.
Iowa City, Iowa — Kansas Gov. Kathleen Sebelius said Tuesday that a belief among some voters that Barack Obama is different from them is hindering his campaign for president.
Asked at a brown bag lunch at the Iowa City public library about why the campaign is neck-and-neck, Sebelius responded that "code language" raising doubts about Obama is invalid because his life experience "has a lot more to do with me and my family."
"I think that the notion that, 'By the way, have any of you noticed that Barack Obama is part African-American?' - I think that is for a number of people difficult," Sebelius said. "I think we need to talk about the fact that that is a real issue."
GOP leaders quickly fired back that the comments were divisive.
"With less than 50 days to go, Democrats will continue to try to change the focus away from the issues that will decide this election," said Caleb Hunter, executive director of the Republican Party of Iowa. "Whether it is energy, the economy or national security, Obama and his surrogates know that he is on the wrong side of each issue and that is why he can't seal the deal with Midwestern voters."
In addition to her event in Iowa city, Sebelius promoted Obama during stops in Cedar Rapids and West Burlington.
Sebelius said recent presidential campaign polling in the Upper Midwest shows the region is still in play for both parties. She noted that polls indicate Obama has a wide lead in Iowa over Republican John McCain but that the race is a dead heat in Minnesota.
The Democratic governor said she remains optimistic that Obama will carry the region because she believes tax issues, energy policy and health care reform all favor the Democrat. She said the Obama campaign will focus on the economy and try to tie McCain's tax and economic plans to President Bush's policies.
"Iowa is likely to be a state that's decided by a couple percentage points either way," Sebelius said. "Senator McCain's on his way here Thursday. He clearly feels that Iowa is in play."
Sebelius talked about a "neighborhood-by-neighborhood ground game" strategy to win votes in the region, but she acknowledged that it won't be an easy fight.
In Minnesota, a Minneapolis Star Tribune poll on Sunday showed each candidate is supported by 45 percent of likely voters in the state. That's a dramatic improvement for McCain from a Star Tribune poll in May that found him trailing Obama in the state by 13 percentage points.
"Minnesota is a state that's likely to be close," Sebelius said. To win, Democrats must refocus "voters on the economic challenges of the country and the fact that these candidates have very different plans to move us forward. I'm convinced Barack Obama will do very well in Minnesota."
She said that she and Iowa Gov. Chet Culver will do a better job in their positions "if we have a partner in the White House instead of an adversary."
Sebelius played off the recent turmoil on Wall Street to further Obama's message that McCain's economic plans are a continuation of the current administration's policies. And she tied McCain to Phil Gramm, chief author of a law that deregulated the markets in the late 1990s and until recently one of McCain's chief economic advisers.
"(Gramm) is the author of a lot of the chaos you're seeing," Sebelius said.
Copyright 2018 The Associated Press. All rights reserved. This material may not be published, broadcast, rewritten or redistributed. We strive to uphold our values for every story published.