Photo Gallery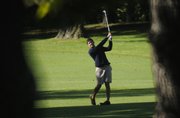 Kansas Invitational
Kansas Invitational at Alvamar Golf Club
Kansas University sophomore Nate Barbee placed sixth overall at the Kansas Golf Invitational on Tuesday at Alvamar Golf Club.
Barbee shot a final-round 70 to go with first day rounds of 76 and 71 to finish at 1-over-par 217. Cal-Davis' Austin Graham was medalist at 72-70-68 - 210.
Barbee's round of 2-under-par 70 marks his third under-par round of the year in just five rounds played.
"Nate is already a very good player for us and he is only going to get better," KU coach Kit Grove said. "Once he gets over the hump and wins his first collegiate tournament, I could see him reeling off a half-dozen more before he is done."
Barbee, a sophomore from Dakota Dunes, S.D., was joined in the top 20 by senior Walt Koelbel freshman Ian Anson, who shot final rounds of 76 and tied for 12th.
KU finished third with 882 strokes. Cal Davis won with 865, with TCU second a
Copyright 2018 The Lawrence Journal-World. All rights reserved. This material may not be published, broadcast, rewritten or redistributed. We strive to uphold our values for every story published.