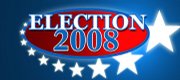 In-depth coverage of the candidates and the issues, all leading up to the Aug. 5 primary and the Nov. 4 general election.
Republican state Sen. Roger Pine lists a Lawrence address for his home, but he conceded Tuesday that he doesn't live in Lawrence.
He lives in Leavenworth County.
The question of his address came up last month when he voted in the Republican Party primary.
He cast a ballot where he has always voted - in Precinct 55 in Grant Township in Douglas County.
But the supervising poll worker knew Pine didn't live in Douglas County anymore.
So, Pine ended up casting a provisional ballot that was later made a partial ballot, meaning some of the ballot was disallowed because he wasn't eligible to cast votes in those races because of where he lived, according to Jamie Shew, Douglas County clerk.
"The law is pretty clear that your residence is the place you intend to return to at night. Basically it's where you are going to sleep," Shew said.
Pine, who is running for re-election to the 3rd state senate district, said he was confused about the residency requirements.
In the state legislative directory, Pine lists his home address as 1783 E. 1500 Road in Lawrence. He listed the same address when filing for re-election and is always referred to as a Republican from Lawrence.
That Lawrence address is where his business is - Pine Family Farms - and that is where Pine grew up and lived most of his life. On occasion, he said, in recent years, he spent the night there.
But since 1999, he has lived in Leavenworth County, he said. "As of the general election this fall, I will be voting in Leavenworth County," he said.
His Democratic opponent, Tom Holland of Baldwin City, said he was surprised to hear that Pine didn't live in Lawrence. "I had no idea," Holland said. He said he didn't know whether the issue would affect the race.
The 3rd senate district includes North Lawrence, much of eastern Douglas County, including Eudora and Baldwin City, all of Jefferson County and much of Leavenworth County outside of the cities of Leavenworth and Lansing.
Copyright 2018 The Lawrence Journal-World. All rights reserved. This material may not be published, broadcast, rewritten or redistributed. We strive to uphold our values for every story published.