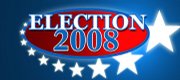 In-depth coverage of the candidates and the issues, all leading up to the Aug. 5 primary and the Nov. 4 general election.
Topeka — President Bush will not headline a campaign fundraiser for Republican congressional candidate Lynn Jenkins, but instead will send first lady Laura Bush to the event while he visits Texas to see damage from Hurricane Ike.
The White House made the announcement Monday.
Jenkins is running against U.S. Rep. Nancy Boyda, D-Topeka, for the 2nd Congressional District, which includes west Lawrence, Topeka, Manhattan and much of southeast Kansas.
The invitation-only fundraiser at a private residence for Jenkins is scheduled for Tuesday.
Invitations for the event had asked for $7,500 per couple to have a photograph taken with the president.
Boyda, who had scheduled a rally Monday in the Statehouse, canceled the event because of the disaster in Texas, she said.
"President Bush has canceled his planned visit to Kansas tomorrow in order to comfort victims and lead the relief effort. He'll have my full support, and I'll work in Congress to swiftly provide whatever relief is needed," Boyda said.
Last week, Boyda and the Kansas Democratic Party had been critical of plans for Bush's fundraising visit to Topeka because they said it would have been a waste of taxpayer dollars for political purposes.
Copyright 2018 The Lawrence Journal-World. All rights reserved. This material may not be published, broadcast, rewritten or redistributed. We strive to uphold our values for every story published.