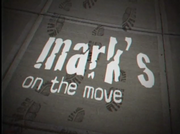 When I moved to Lawrence in early March 2008, my main objective as a news anchor at 6News was to integrate myself into the community. Covering the daily issues in Lawrence, Eudora, Tonganoxie and Basehor, I feel that, more and more, I am becoming a part of this community.
But there is so much more out there than we can cover through our daily newscasts. I want to learn more about the activities, people and places that make our community unique, a community to be proud of.
That's why "Mark's on the Move" was created.
I have set out in search of the stories that make this area unique. I want to learn about and showcase activities and topics that don't normally make headlines. In turn, I hope to help educate our audience about those very issues.
For example, skateboarders are often looked down upon and secluded to skate parks, so I asked three local high school students to teach me about their passion. Two Lawrence firefighters showed me up in the Candidate Physical Agility Test, the physical test needed to qualify as an applicant. It's much more difficult than it looks, and we should envy the effort they put in to keeping us safe.
I am now awaiting the next untold or often-overlooked story. That's where you come in.
This is a chance for you to participate in the weekly segment. We want to hear your comments, questions and suggestions.
See you Sunday.
Mark's on the Move
"Mark's on the Move" is a new feature segment as 6News anchor/reporter Mark Boyle searches for the often untold and overlooked stories in our community. This is a great chance for you the viewer to weigh in on and add to the stories that we are unable to cover through our daily news coverage.
Mark is looking for your participation, comments and suggestions."Mark's on the Move" will appear Sundays throughout the fall online at LJWorld.com, during the Sunday 10 p.m. broadcast on 6News and in the Sunday edition of the Lawrence Journal World.
Copyright 2018 The Lawrence Journal-World. All rights reserved. This material may not be published, broadcast, rewritten or redistributed. We strive to uphold our values for every story published.