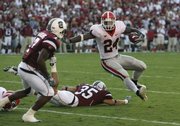 Columbia, S.C. — No. 2 Georgia and Knowshon Moreno made sure South Carolina didn't ruin a second straight shot at a championship season.
Moreno's sliding 4-yard touchdown run in the third quarter lifted the Bulldogs to a 14-7 victory over the Gamecocks on Saturday.
Reshad Jones sealed the victory for the Bulldogs (3-0, 1-0 Southeastern Conference), intercepting South Carolina's Chris Smelley's pass with 13 seconds left inside the Georgia 10.
The Bulldogs had all offseason to remember how last September's 16-12 loss to South Carolina (1-2, 0-2) likely kept them from playing for the SEC and national titles.
For much of this one, it looked like the Gamecocks would do it again as the Bulldogs trailed 7-6 midway through the third quarter.
Georgia had already muffed a scoring chance near the goal line, settling for Blair Walsh's 23-yard field goal after having a third-and-goal at the South Carolina 1.
Moreno, who finished with 79 yards on 20 carries, didn't squander the Bulldogs' next opportunity.
He ran left, then took a hard cut up the middle with his feet sliding out from under him. He steadied himself with his right hand, then slipped through for his seventh touchdown of the year.
Stafford converted the 2-point try on a pass to Kris Durham and Georgia led 14-7.
No. 7 LSU 41, North Texas 3
Baton Rouge, La. - Charles Scott ran for touchdowns of 39 and 43 yards, Trindon Holliday scored on a 92-yard punt return, and LSU cruised.
The dominant victory came at a price. Starting linebacker Darry Beckwith left the game with an apparent right knee injury. Beckwith could not put any pressure on his injured leg as two trainers helped him to the sideline, where he was given crutches. LSU officials did not specify the extent of the injury.
Andrew Hatch, who started and got most of the snaps, finished 10-of-17 for 145 and threw his first career interception. His only touchdown came on a 7-yard keeper. Lee was 10-of-18 for 84 yards. Both quarterbacks were guilty of missing badly on throws down field to receivers who appeared open.
Scott wound up with 102 yards on seven carries for the Tigers (2-0).
No. 9 Auburn 3, Mississippi State 2
Starkville, Miss. - Wes Byrum kicked a 36-yard field goal in the second quarter and that was all Auburn needed to defeat Mississippi State.
The Tigers (3-0, 1-0 Southeastern Conference) committed three turnovers, missed two field goals and handed the Bulldogs their only points with a safety.
But Auburn allowed only 116 yards to Mississippi State (1-2, 0-1).
Chris Todd was 14-for-26 for 154 yards for Auburn and Ben Tate ran for 92 yards on 20 carries.
Mississippi State scored with 7:05 left the fourth quarter when Auburn offensive lineman Ryan Pugh was called for holding in the end zone, giving the Bulldogs two points.
No. 11 Alabama 41, W. Kentucky 7
Tuscaloosa, Ala. - John Parker Wilson passed for 215 yards and two touchdowns and freshman Mark Ingram ran for two scores, leading No. 11 Alabama to a 41-7 win over Western Kentucky Saturday night.
Alabama (3-0) rolled to 557 yards a week after getting held to 172 by Tulane to enter Southeastern Conference play on a high note. Glen Coffee rushed for 97 yards on 11 carries before sitting out the second half. His career-long 51-yarder set up a touchdown. Freshman Julio Jones caught five passes for 66 yards, including a 12-yard touchdown.
Wilson completed 17-of-27 passes with an interception in three quarters before giving way to backup Greg McElroy against the overmatched Hilltoppers (1-2).
No. 14 E. Carolina 28, Tulane 24
New Orleans - East Carolina rallied for the victory over Tulane when Patrick Pinkney threw a 24-yard touchdown pass to Jamar Bryant with 1:41 left to play.
The Pirates (3-0, 1-0 Conference USA) vaulted into the national rankings and national spotlight by upsetting Virginia Tech and West Virginia in consecutive weeks, and almost had Tulane (0-2) pull the same trick on them.
Pinkney completed 22 of 32 passes for 260 yards and two touchdowns, and the Pirates improved to 3-0 for the first time since 1999. ECU secured the victory when Pierre Bell intercepted Kevin Moore's pass at the Green Wave 45 with 28 seconds left.
UNLV 23, No. 15 Arizona State 20, OT
Tempe, Ariz. - Unranked UNLV went on the road and pulled off an upset of No. 15 Arizona State.
The Rebels tied the game at 20-all, with a late touchdown and then struck first in overtime with a short field goal.
Arizona State had a chance to win or tie, but had a 35-yard field goal blocked, which sealed the win for UNLV.
No. 16 Oregon 32, Purdue 26, 2OT
West Lafayette, Ind. - LaGarrette Blount ran 3 yards for a touchdown in the second overtime to give Oregon the come-from-behind win over Purdue.
Oregon (3-0) trailed 20-3 early in the second quarter, but tied the game late in the third, and Purdue's (1-1) Chris Summers missed a 44-yard field goal as time expired in regulation.
Oregon got back in the game when Jairus Byrd returned a punt 87 yards to make it 20-13 with 4:41 left in the third quarter.
Oregon broke another big play, with Blount rumbling 74 yards up the middle. to get into scoring range. Roper kept on a fourth-and-1 at the Purdue 16 and went 11 yards, and Blount, who ran for 132 yards on 12 carries, finished the drive with a 5-yard run that tied the score at 20 with 11 seconds left in the third quarter.
No. 17 Penn State 55, Syracuse 13
Syracuse, N.Y. - Jordan Norwood and Deon Butler each caught a pair of touchdown passes in the first half and the Nittany Lions humbled the Orange in the first game between the old rivals in 18 years.
The victory was the 375th for Penn State coach Joe Paterno, keeping pace with Florida State's Bobby Bowden, whose Seminoles beat Chattanooga.
Penn State (3-0) outgained Syracuse 191-5 in the first quarter, and the Orange (0-3) did not get a first down until Cam Dantley hit Grant Mayes for a 26-yard gain early in the second with Syracuse already trailing 28-0.
No. 18 BYU 59, UCLA 0
Provo, Utah - Max Hall tied a BYU record with seven touchdown passes against UCLA and the Cougars extended the nation's longest winning streak to 13 games.
BYU improved to 3-0 for the first time in seven seasons and grabbed control of this one with four touchdowns in the first 5:18 of the second quarter.
The Cougars forced four turnovers and blocked a field goal attempt while stunning UCLA (1-1) in Rick Neuheisel's second game coaching his alma mater.
Hall finished 27-for-35 for 271 yards with one interception. He had six touchdown passes in the first half as the Cougars took a 42-0 lead, then got his seventh on a 6-yard pass to Harvey Unga with 7:43 left in the third quarter to tie the BYU record shared by Marc Wilson and Jim McMahon.
No. 22 Utah 58, Utah State 10
Logan, Utah - Matt Asiata scored three touchdowns rushing and Brian Johnson threw for two more and Utah defeated Utah State for the 11th consecutive time.
Utah's 58 points was the most they have scored since twice racking up 63 points in their undefeated 2004 BCS-busting campaign.
Johnson completed 22 of 31 passes for 204 yards before sitting out most of the fourth quarter as the Utes combined an effective rushing attack with a short passing game to wear down the overmatched Aggies (0-3).
Maryland 35, No. 23 California 27
College Park, Md. - Maryland outplayed California, holding the Golden Bears without a touchdown until the closing minutes.
Coming off a 10-point loss to unheralded Middle Tennessee State, the Terrapins (2-1) were given little chance against a Cal juggernaut that totaled 104 points in disposing of Michigan State and Pac-10 foe Washington State.
But Da'Rel Scott ran for 87 yards and two touchdowns before leaving with a shoulder injury, Chris Turner threw for scores and the Terps used a relentless defense to harass the Golden Bears (2-1) from the outset.
No. 24 Illinois 20, Louisiana-Lafayette 17
Champaign, Ill. - Daniel Dufrene had a career-high 126 yards rushing and Matt Eller's late field goal helped Illinois hold off Louisiana-Lafayette.
Illinois (2-1) took a 20-10 lead on Eller's 27-yard kick with 1:40 left, but didn't put the game away until Garrett Edwards recovered an onside kick attempt by Louisiana-Lafayette (0-2) with less than 20 seconds left.
Quarterback Michael Desormeaux brought the Ragin' Cajuns to life in the last six minutes, running for a 34-yard TD that made it 17-10 and hitting tight end Erik Jones for an 11-yard touchdown that set up the onside kick.
Illinois quarterback Juice Williams, who entered the game averaging 92 yards rushing and 287 yards passing, completed 13 of 25 passes for 147 yards, one touchdown and an interception. He rushed 11 times for 35 yards.
Copyright 2018 The Associated Press. All rights reserved. This material may not be published, broadcast, rewritten or redistributed. We strive to uphold our values for every story published.