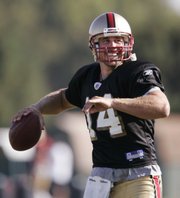 Santa Clara, Calif. — J.T. O'Sullivan is a master of the six-month apartment lease and the temporary gym membership. He can quickly find a health food store or a post office anywhere from New Orleans to Frankfurt, and he has a good restaurant recommendation in the areas around a quarter of the NFL's training complexes.
As an itinerant quarterback with nine stints on eight NFL teams over the past seven seasons, O'Sullivan is a wizard with all the tricks to a temporary existence.
"I chose to do this, so I really, really enjoy it," O'Sullivan said. "I like everything about it, from the offseason to working out to the classroom stuff, and the competition and the playing is the reward for all that. I approach it as a job, but I have more fun doing this than anything else."
Since 2002, O'Sullivan has moved from New Orleans to Frankfurt, Germany (for NFL Europa); to Green Bay in a trade; to Chicago after being waived; to Minnesota after being signed off the Bears' practice squad; to New England after being waived again; to Carolina after being waived yet again; to Frankfurt once more; to Chicago again for four months; to Detroit for his first significant NFL playing time; and finally to the 49ers, who signed him Feb. 29 as their ostensible third quarterback.
The odyssey's latest turn was its most improbable: O'Sullivan beat out 2005 No. 1 overall draft pick Alex Smith to win the 49ers' starting job in training camp.
After years of running scout teams, eating room service food and hoping for a break, the journeyman with the fat $40,000 signing bonus has been given major responsibilities with a struggling NFL team. He also was given the burden of being the next quarterback in the 49ers' star-studded lineage at the position.
O'Sullivan surpassed Smith to claim the job last month, outplaying the 49ers' $31 million investment in a result that even seemed to surprise coach Mike Nolan. Just a few weeks after Nolan indicated his quarterback competition essentially was a two-man duel between Smith and veteran backup Shaun Hill, O'Sullivan roared up from third place to take over a team that probably needs a winning season to save Nolan's job.
Despite his travels, O'Sullivan thinks of himself as "a California kid through and through." He spends his offseasons in the Point Loma area of San Diego, where he bought his house to be close to his mother and brother, Pat.
But Ocean Beach must wait until winter. Perhaps O'Sullivan will even get comfortable in the Bay Area for a little while longer than normal - if he can find a place to live.
"Just a nice place with a six-month lease," he says. "Can somebody check the ads in the paper for me?"
Copyright 2018 The Associated Press. All rights reserved. This material may not be published, broadcast, rewritten or redistributed. We strive to uphold our values for every story published.