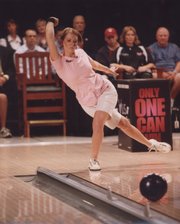 Of all the crummy circumstances to befall a bowler with professional aspirations, Kristal Wilson had this to encounter: no league in which to display her talents.
A lack of interest in sponsoring caused the Professional Women's Bowling Association - the only women's pro league in the country - to fold just before Wilson finished her collegiate bowling career at Wichita State University in 2004.
The decision came as devastating news to Wilson.
"I basically worked my whole life to want that dream to go out on the pro tour and win a title and just have that chance to bowl," said Wilson, who resides in Lawrence. "Knowing I put so much time and so many hours into bowling, and getting to that point of excitement because it's almost time for me to go pro, and then it folds, it was just a heartbreaker."
Wilson, a three-time All-American at Wichita State, had no choice but to perform in tournaments with predominantly male fields.
Four years later, a full-fledged women's league has yet to spout up. Wilson still is considered an amateur because she never had the chance to earn a pro tour card.
But the biggest tournaments have made their way back to the women's circuit. And so has Wilson.
Last month, Wilson beat out 170 other bowlers during a grueling four-day qualifying session for a spot on television in the final 16 of the U.S. Women's Open in Romeoville, Ill. Wilson finished third overall in qualifying with a 32-game score of 6,785 pins. That averages out to roughly 212 pins per game.
Today, her round-of-16 matchup airs on tape delay at 1 p.m. on ESPN.
Wilson said most TV events only featured the top five bowlers at a given tournament. The U.S. Open, however, is being broadcast for five consecutive Sundays in an effort to give greater exposure to the women's game.
Wilson's husband, Russ - a former bowler on the Wichita State men's team - flew to Illinois last month to watch Kristal's TV match. The couple moved to Lawrence in 2006 and both took jobs at Jayhawk Bowling Supply, where Russ is pro shop manager and Kristal serves as pro shop assistant.
The one-game, single-elimination bracket proved to be quite different for Kristal, who was competing in her first-ever U.S. Open. She lost to No. 14-seed Jodi Woessner in the opening round.
Bleacher seats and cameras lined the sides of the two bowling lanes, and a broadcast crew was present as well.
"When you're competing for money and a title, you kind of forget about all the people watching," Kristal Wilson said. "It is a nervous feeling, but it's an enjoyable feeling."
Russ Wilson said the unpredictability of the one-and-done format made for nerve-wracking times while he sat in the bleachers and watched.
"Anything can happen," he said. "Everybody is going to have their low games or high games. You don't know what's going to happen on TV."
Kristal said she and her husband would have 10 to 15 people over to their home to watch today's match. And even though she knows the result, she'll be watching intently.
"I haven't seen it yet, so I'm anxious to see it," she said. "It's very rare that you actually see yourself bowl."
Copyright 2018 The Lawrence Journal-World. All rights reserved. This material may not be published, broadcast, rewritten or redistributed. We strive to uphold our values for every story published.