Upcoming events
Several projects that meld science and art are underway this year at Kansas University. They include:
¢ "Biodiversity Is ...," visual art exhibition featuring 12 works by seven artists, Kansas University Natural History Museum, 1345 Jayhawk Blvd. Opening reception is 5 p.m. to 7 p.m. Wednesday.
¢ "Niche," works by Bruce Scherting and Marguerite Perret, open 9 a.m. to 4 p.m. Tuesday through Saturday at The Commons at Spooner Hall, 1340 Jayhawk Blvd.
¢ "Climate Change at the Poles," featuring a variety of artifacts, opens Jan. 24 at the Spencer Museum of Art, 1301 Miss.
¢ "Trees & Other Ramifications: Branches in Nature & Culture," opens March 7 at the Spencer Museum of Art and The Commons at Spooner Hall.
¢ "Tree of Life," multidisciplinary performance piece featuring the KU Wind Ensemble, dancers and the Turtle Island String Quartet, 7:30 p.m. April 24 and 25, Lied Center, 1600 Stewart Drive.
Photo Gallery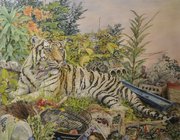 'Diversity' at the Natural History Museum
Art featured in the KU Natural History Museum's new exhibit titled "Biodiversity is."
When animals show up in Andrew Hadle's artwork, it's usually because they look cool - not because he's thinking about the scientific ramifications.
"I never gave it much thought when I'm doing my art, that this relates to (Charles) Darwin, or this relates to science," says Hadle, who lives in Lawrence. "I never really put science into the thought process of why I'm making the art, but that's not to say it's not there."
That changed with his recent painting for "Biodiversity is ...," a show opening this week at Kansas University's Natural History Museum. For his submission, Hadle painted a series of animals that were literally connected to one another - and that suggest the bigger-picture connections among all species.
He hopes it gets people thinking about environmental preservation.
"Maybe a research paper isn't that entertaining for the vast majority of the world," Hadle says. "I think art is a nice little bridge for the artist connection (to science). It's definitely going to get a lot of different people who might not show up at the Natural History Museum."
'Creative people'
"Biodiversity is ...," which features seven works by 12 artists, is one of several projects under way at KU this year that meld the seemingly disparate worlds of science and art.
These are projects that bring together faculty and staff in truly multidisciplinary ways, with hopes of communicating scientific principles and advocacy in a way that's more accessible to the masses.
"Surely (Albert) Einstein and (Isaac) Newton were very creative people to make the bounds they did," says Thomas Hardy, a senior and president of the Natural History Museum's student board, which organized the new exhibition. "This exhibit ties into something I think the entire university is trying to do, which is look at how art and science relate."
Earlier this year, "Niche," another science/art project, opened at The Commons, a joint project of the Biodiversity Institute, Spencer Museum of Art and Hall Center for the Humanities housed at Spooner Hall. It will remain there through February.
"Niche" was created by Bruce Scherting, exhibits director at the Natural History Museum, and Marguerite Perret, an art faculty member at Washburn University in Topeka.
It encompasses both the scientific term "niche," which refers to an organism's place in the ecosystem, and the consumer term "niche," which refers to a marketing stronghold. Images such as a water buffalo drowning in a "sea" of plastic water bottles and tree roots made of PVC pipe fill the exhibit.
"It does draw you in with the aesthetic quality," Scherting says. "And as you take it in very slowly, it unfolds in ways you didn't expect."
That's when the scientific message comes through.
Branching out
Two shows combining art and science open early next year at the Spencer Museum of Art.
The first, opening in late January, is "Climate Change," an exhibit that explores life in and perceptions of the North and South poles using photographs, historic maps and artifacts such as fur coats worn by people living near the North Pole.
"I think what's interesting and very different - and something we've never done before - is every one of these items could be on view in a natural history museum," says Kate Meyer, curatorial assistant at the Spencer. "By virtue of being in an art museum, the audience is expected to view items by an aesthetic point of view."
Another exhibition, "Trees and Other Ramifications: Branches in Nature & Culture," opens in March at the Spencer. It will use a variety of media - including art, books, diagrams and other objects - to look at trees both from scientific and metaphorical points of view.
Fields 'intertwined'
Trees also will be at the center of what will perhaps be the culmination of the year-long focus of science and the arts at the university.
"Tree of Life" is a collaborative performance piece that will be presented in music, dance and theater April 24 and 25 at the Lied Center.
The project is the result of a grant from the Doris Duke Charitable Foundation. It will feature the KU Wind Ensemble, the Turtle Island String Quartet and KU dancers, among others.
But perhaps more interesting is the back story to the project. After KU received the Duke grant, organizers convened a group of artists and scientists at a colloquium to talk about topics that might be appropriate for a multidisciplinary project marrying science and art.
"The theme that grew out of that was evolution," says Karen Christilles, associate director of the Lied Center.
And even though the evenings of performances will include a variety of art forms, they'll all the intertwined - and that's by design.
"They're not thinking of this as separate themes or vignettes," Christilles says. "Just as these trees are intertwined, each of these art forms are intertwined."
While, at first blush, the empirical world of science might seem far different from the subjective and creative world of art, Christilles says "Tree of Life" and other projects this year are helping to prove the two disciplines share common bonds.
"It's not as far apart as one might want to paint it, because these are intensely passionate fields, both of them," she says. "The people who dedicate their lives to these fields are incredibly curious about not just their own craft or their own science, but the world around them. And that's why they are who they are."
Copyright 2018 The Lawrence Journal-World. All rights reserved. This material may not be published, broadcast, rewritten or redistributed. We strive to uphold our values for every story published.