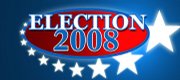 In-depth coverage of the candidates and the issues, all leading up to the Aug. 5 primary and the Nov. 4 general election.
Washington — Alan Greenspan says the country can't afford tax cuts of the magnitude proposed by Republican presidential contender John McCain - at least not without a corresponding reduction in government spending.
"Unless we cut spending, no," the former Federal Reserve chairman said Friday when asked about McCain's proposed tax cuts, pegged in some estimates at $3.3 trillion.
"I'm not in favor of financing tax cuts with borrowed money," Greenspan said during an interview with Bloomberg Television. "I always have tied tax cuts to spending."
McCain has said that he would offset his proposed cuts - including reducing the corporate tax rate and eliminating the Alternative Minimum Tax that has plagued middle-class families - by ending congressional pork-barrel spending, unnecessary government programs and overhauling entitlement programs such as Medicare and Social Security.
McCain campaign officials dispute the $3.3 trillion figure, saying it assumes eliminating 2003 tax cuts made by the Bush administration and then cutting from that higher level. They say McCain is proposing tax cuts worth $600 billion from current levels.
"John McCain opposed President Bush's tax cuts in 2003, because they didn't include the necessary spending controls. Senator McCain's proposed job-growing tax cuts are modest in comparison to his plans to slow the exploding growth of federal expenditures - meaning that contrary to Chairman Greenspan's assertions, this relief isn't proposed on borrowed money," said McCain spokesman Tucker Bounds.
Copyright 2017 The Associated Press. All rights reserved. This material may not be published, broadcast, rewritten or redistributed. We strive to uphold our values for every story published.