Photo Gallery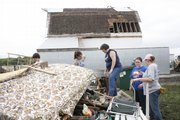 Storm damage
Two tornadoes and a microburst - Jimmy Grems, 41, couldn't be less charmed with his three encounters with Kansas storms.
"I'm getting tired of it," said the Eudora resident, who on Friday surveyed the damage of his second home hit by tornadic winds in three years. "That's about it. You can't get mad. What are you going to do?"
In March 2006, Grems' Lawrence house on 15th Street was damaged from the mircoburst that hit the city. He later moved to southeast Eudora and his workshop adjacent to his house was destroyed by a May 2007 tornado.
On Friday, 90 mph winds from an EF1 tornado that touched down near North 900 Road and East 2300 Road, southeast of Eudora, hit his home and the properties of two other families, according to the National Weather Service office in Topeka.
The places hit in that three-mile stretch were Grems', Michael Gabriel's rental property, and Gabriel's cousin Michelle and husband Bobby Gabriel's property.
Michelle and Bobby Gabriel's property was hit the worst. Their house, which had belonged to Bobby's grandparents and was built in the late 1920s, was relatively unscathed by the winds. However, two barns were destroyed, tree limbs littered the property and an electric line went down, leaving the family of four without power from when the storm hit about 4:30 p.m. Friday until 2 a.m. Saturday.
Saturday morning, about 20 family members, neighbors and friends showed up to help with cleanup efforts in the muddy pasture on their 140 acres and around their home. Pieces of sheet metal were strewn in trees about 300 yards from the two barns.
"Just doing a neighborly thing, that's about it," Jeremy Hueser said about coming out to help. Hueser lives about a mile and a half east of the Gabriels' home.
Tucker Gabriel, 10, Michelle's nephew, was tramping around in a large gray hooded sweatshirt, black sports shorts and black rubber boots, all covered in mud.
"When my dad and I got here yesterday right after the storm, we were both just in shock that nobody was hurt," he said. "We were kind of surprised because everything was taken down. We were glad and shocked."
Michelle Gabriel said she was "feeling pretty loved" from all the help.
People were cutting tree limbs, even an 80-foot-tall tree, separating debris and hauling it off their driveway, so "we can figure out where we're going to start out at to rebuild," she said.
"That the house is still standing is beyond me," she said.
Teri Smith, director of Douglas County Emergency Management, said the damage estimate reported Friday remained the same Saturday. Eight to 10 homes and outbuildings were believed to have been damaged in the area southeast of Eudora.
The National Weather Service reported that a pickup truck was pushed 50 yards from its original position by the winds along East 2300 Road. They also reported the tornado lifted off the ground before reaching North 1000 Road.
Aside from the tornado, Smith said the agency would be watching the Kansas River level. On Wednesday it was 10.6 feet and on Saturday it rose to 13.95 feet.
"The river has drastically risen," she said. "We're going to have to wait and see how the weather progresses in the south (United States after Hurricane Ike)."
Lawrence is expected to stay dry today and the next few days.
Copyright 2018 The Lawrence Journal-World. All rights reserved. This material may not be published, broadcast, rewritten or redistributed. We strive to uphold our values for every story published.