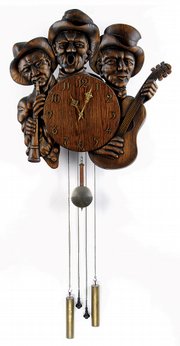 Current prices
Current prices are recorded from antiques shows, flea markets, sales and auctions throughout the United States. Prices vary in different locations because of local economic conditions.
¢ Cracker Jack toy train car, cast metal, 1920s, 1 inch, $45.
Wright & McGill Fishing Tackle catalog, 50 pages of hooks, leaders, pulls, 1953, 6 1/2 x 8 3/4 inches, $60.
¢ Brush-McCoy wall pocket, boxer dog, green and light-brown glossy glaze, 10 x 7 1/2 inches, $75.
¢ Spark Plug oilcloth doll, brown body with white face, 1930s, 12 x 8 1/2 inches, $100.
¢ "Porgy and Bess" cast-signed sheet music, Sidney Poitier and Sammy Davis Jr., 1959, Gershwin Publ. Corp., 4 pages, $125.
¢ Little Orphan Annie embroidery set, Annie and Sandy on magic carpet, "Magic Carpet Ought to Be Steam Heated This Time of Year," made in Japan, 1930s, $155.
¢ Ohio leather-bound trunk, brass tacks and handles, interior lined with printed cotton and newspaper, labeled "E.P. Brainerd and Co.", c.1875, 10 x 20 x 11 1/2 inches, $445.
¢ Roseville wall pocket, Iris pattern, pink, impressed mark and number, 8 1/4 inches, $590.
¢ Paneled hall bench, oak with mellow finish, canted back with 4 raised arch panels over seat, cabriole front legs, 18th century, 35 x 58 x 26 inches, $635.
¢ Daum Nancy glass bud vase, Lilies of the Valley pattern, cranberry, frosted, textured, cameo, c. 1900, 7 1/2 inches, $1,855.
Clocks have been made in forms that depend on the size and shape of the clock's mechanism.
The 18th-century tall-case, or grandfather, clock was made to hold a long pendulum. In 1816, Eli Terry patented his small works for a clock, so clock cases were then made that were small enough to be displayed on a mantel or shelf. By 1840, clocks kept time using coiled springs, and an even smaller clock could be made. In the 20th century, battery-powered and electric clocks were invented, and clocks again changed shape.
Now it's possible to have a digital clock with a rectangular, not round, face, and the time can be set by satellite. Clockmakers have created many unusual clocks. The Michigan Chair Co. (1890-1926) decided about 1900 to have its furniture carvers also work on wooden clock cases. One case, carved from solid oak, was topped by three minstrels - a singer, horn player and guitar player. The 3-D figures held a round clock face with chain-driven weights. A pendulum hung below. A buyer at a James Julia auction in Maine paid $3,680 for the clock.
Note: Before you sell any of your gold or silver jewelry, think carefully. The prices you will be paid are for the metal alone. The stones and the workmanship are not considered. Many antique pieces of gold jewelry that are now out of fashion will be popular in years to come, and their value will increase. A few years ago, the retro jewelry of the 1950s was kept in a drawer. Today a typical piece of '50s jewelry - let's say a bow-shaped, two-tone gold pin decorated with rubies - would bring premium prices. Delicate Edwardian-style bar pins set with diamonds in white gold or platinum are back in favor again, too. So are heavy gold chains and rings with large colored stones. It's safer to sell gold or silver jewelry to a local dealer who understands antique jewelry than it is to answer a TV ad.
Q: I recently bought a Harris-Brown Junior cabinet with a "magic, disappearing table." The piece is in good condition, with some lovingly made small repairs. There is evidence it was used for many years. The cabinet has its original glass and hardware. I also have the four chairs that came with the cabinet. Two brass plates on the cabinet say the piece is a "Harris Junior Table from Denver, Patent Applied For." History?
A: Clarence H. Harris applied for a patent on an "Extensible Table" in 1911. The patent was granted in 1915 and assigned to the Harris-Brown Table Co. of Rawlins, Wyo. The patent was for the hidden table in the cabinet. Your cabinet would have been used in a small kitchen. The table could be stored to make more space in the room.
Q: I have a child's Wornova Indian Costume. The box has a picture of Hoot Gibson on it. Can you tell me how old it is and provide any other information about it?
A: Edmund Richard "Hoot" Gibson (1892-1962) was a rodeo champion who became an actor in both silent and "talkie" Western films. He eventually got leading roles and worked with famous directors like John Ford. Toward the end of his life, difficult financial circumstances forced Gibson to work at Las Vegas casinos and carnivals to pay his medical debts. Gibson memorabilia includes children's costumes, movie posters, autographs, scripts and personal items like spurs. Other Western-theme entertainers, including Roy Rogers and Dale Evans, also lent their names to children's toys and costumes.
Q: Several years ago, I unearthed a large, clear glass bowl from my aunt's basement. It's 8 inches in diameter and has a scalloped rim. There are impressed images of silver-colored coins around the bowl, although they don't look like real coins. One shows the Liberty Bell, another a torch and still another an eagle and the year 1887. Was the bowl made in 1887? Is it valuable?
A: Your bowl was not made in 1887. It was made either by the Fostoria Glass Co. of Fostoria, Ohio, between 1958 and 1982 or by Dalzell-Viking of New Martinsville, W.Va., between 1982 and 1998. Fostoria copied the pattern from 1890s pressed glass patterns called "U.S. Coin" and "Columbian Coin." The first pattern, U.S. Coin, was introduced in 1892 by Central Glass Co. of Wheeling, W.Va., which was acquired later in the year by the U.S. Glass Co. of Pittsburgh. But the Treasury Dept. halted production of U.S. Coin pieces because real U.S. coins were used to make the molds, and the government feared the molds could be used by counterfeiters. To comply with the government's decision, U.S. Glass Co. switched to using round medallions that looked like coins and called the pattern Columbian Coin. The medallions pictured an eagle and shield, a crown and shield, Christopher Columbus or Americus Vespucius. Fostoria's "Coin" pattern was adapted from older Fostoria molds and used medallions picturing the Liberty Bell, a torch, a Colonial man and an eagle with the year 1887. Dalzell-Viking used Fostoria molds to continue making the pattern. Fostoria and Dalzell-Viking 8-inch Coin bowls in clear glass sell for $25 to $50. In ruby, they sell for more than twice that.
Tip: If you have new, shiny, silvery-looking pewter collector's plates, don't use any form of abrasive cleaner on them.
- The Kovels answer as many questions as possible through the column. By sending a letter with a question, you give full permission for use in the column or any other Kovel forum. We cannot guarantee the return of any photograph, but if a stamped envelope is included, we will try. The volume of mail makes personal answers or appraisals impossible. Write to Kovels, (Lawrence Journal World), King Features Syndicate, 300 W. 57th St., New York, NY 10019.
Copyright 2018 The Lawrence Journal-World. All rights reserved. This material may not be published, broadcast, rewritten or redistributed. We strive to uphold our values for every story published.