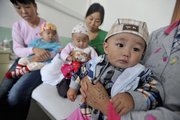 Beijing — China's health minister blamed a dairy Saturday for the delay in warning the public about tainted milk powder linked to kidney stones in infants and at least one death, as authorities increased the number of known sick babies to 432.
The incident has been an embarrassing failure for China's product safety system, which was overhauled in an attempt to restore consumer confidence after a string of recalls and warnings around the world over tainted toothpaste, faulty tires and other Chinese-made goods.
Officials complained they were not alerted to the milk problem until Monday even though the product's maker, Sanlu Group Co., had received complaints as early as March and its tests found a banned chemical in the milk powder in August. The company ordered a recall Thursday.
"The Sanlu Group should shoulder major responsibility for this," Health Minister Gao Qiang said at a news conference.
He gave no indication what penalties the dairy might face, but said those responsible would "be dealt with severely."
Officials defended their response to the latest product safety disaster. They said 19 people had been detained and 78 were being questioned about how the banned chemical melamine was added to milk sold to Sanlu, which is China's biggest producer of milk powder.
Shoddy and fake goods are common in China, and infants, hospital patients and others have been killed or injured by tainted or fake milk, medicines, liquor and other products.
The milk scandal is especially damaging because it involves a major food processor. The government expects such companies to act as industry role models of safety and quality.
Gao, who said the government had launched an emergency inspection of all 175 Chinese companies that produce infant formula, said some of Sanlu's tainted milk powder was exported to Taiwan but none was sold to other foreign markets.
In Taiwan, authorities were trying to determine whether any tainted milk powder was consumed on the island. Liu Fang-ming of Taiwan's Taoyuan county government said the 55,115-pound shipment arrived in June and only 21,660 pounds had been recovered.
The number of babies with kidney stones who were fed Sanlu milk has risen to 432 across China, Gao said. He said the government was sending experts to treat them and would pay for their care.
"We are confident that with timely diagnosis and treatment, these infant patients will recover soon," he said.
Chinese investigators are still looking into how and why melamine was added to milk sold to Sanlu, officials said.
Gao said it might have been done to fraudulently increase the milk's volume and fool quality tests. Melamine, used in plastics and other products, is rich in nitrogen, and standard tests for protein in food ingredients measure nitrogen levels. Gao said Chinese law bars the use of the chemical in food.
The company's Web site says it buys milk from a nationwide network of suppliers that includes 60,000 family farms.
Vice Gov. Yang Chongyong of Hebei province, where Sanlu is located, said authorities have seized 2,176 tons of Sanlu baby formula and ordered a recall totaling 8,218 tons - far more than the 700 tons reported in the company's recall announcement Thursday.
Yang said investigators want to know whether word of the contamination was suppressed.
"We will look into whether government at any level was negligent or whether any officials tried to withhold information," he said. "If we find anyone did this, they will be held accountable."
Chinese news reports said officials had evidence of problems as early as mid-July.
Copyright 2018 The Associated Press. All rights reserved. This material may not be published, broadcast, rewritten or redistributed. We strive to uphold our values for every story published.