Related document

Grow Green Checklist ( .PDF )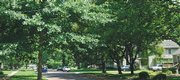 Welcome to our ongoing project, LJWorld.com/Green. Here you can find tips on how to make your life environmentally friendly and read stories about what others in the community are doing to live a more green lifestyle. Eat local, conserve resources, be green.
When it comes to business, green is the new black. And the Lawrence Chamber of Commerce is hoping more companies will catch on to the trend.
Last week, the chamber launched its Grow Green Checklist, which details 30 steps businesses can take to be more eco-friendly.
They are as simple as eliminating unnecessary paper use and as elaborate as planting drought-tolerant ground cover and shrubs to increase water efficiency.
Businesses - even those not affiliated with the chamber - can earn a special designation for implementing at least 20 of the suggestions on the checklist. Businesses also can include steps not on the list that they are taking to be more environmentally friendly.
Along with the checklist, the chamber formed the Grow Green Task Force, a 15- to 20-member board focusing on green issues.
"You hear about the Portland, Oregons, and San Franciscoes that are taking these great initiatives and making great strides in energy conservation. We thought, 'Why not Lawrence, Kansas?' We've got to start somewhere, and that is what we came up with, is the Grow Green Task Force," said Adam Handshy, who is the chamber's program and project coordinator.
The Grow Green Checklist was narrowed down from more than 100 items. The checklist focuses on recycling and waste reduction, energy conservation and pollution prevention.
The organization selected green measures - such as using refillable containers and permanent ware in break rooms rather than disposable products - that would be relatively easy to apply in the business world, Handshy said.
The goal is to have businesses lessen their environmental impact.
"It's an ever-growing concern and a problem that is not going to go away from here on out," Handshy said. "So why not get involved and try to make a difference just to try to be a greener community."
Copyright 2018 The Lawrence Journal-World. All rights reserved. This material may not be published, broadcast, rewritten or redistributed. We strive to uphold our values for every story published.