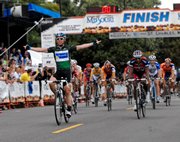 ST. CHARLES, MO. — Mark Cavendish of Great Britain won his third stage of the Tour of Missouri, and American rider Christian Vande Velde retained his race lead for the fourth day Saturday.
Cavendish (Team Columbia), a four-stage winner in this year's Tour de France, pulled away from the field in the final 50 yards of a long, straight finish to claim the 96.9-mile Hermann to St. Charles road race in 3 hours, 32 minutes and 25 seconds.
Ivan Dominguez (Toyota-United) of Cuba finished second, and Brad Huff (Jelly Belly) of the United States was third, both in the same time as the winner.
"I looked, but I didn't see anyone," said Cavendish, whose 17 wins this season also include three victories at both the Tour of Italy and Tour of Ireland.
Vande Velde (Garmin-Chipotle), the fifth-place finisher in this year's Tour de France, finished 10th in the main field and kept an 18-second lead over Australian Michael Rogers (Team Columbia).
Svein Tuft (Symmetrics) of Canada remained third overall, trailing by 48 seconds, with only today's 70-mile circuit race in St. Louis remaining in the seven-stage event.
"The team has done a great job; I haven't had to do much at all," said Vande Velde, whose pending race victory will be his first stage race win since the 2006 Tour of Luxembourg.
Defending champion George Hincapie (Team Columbia) of Greenville, S.C., remained fourth overall, trailing Vande Velde by 1 minute and 3 seconds.
Copyright 2018 The Lawrence Journal-World. All rights reserved. This material may not be published, broadcast, rewritten or redistributed. We strive to uphold our values for every story published.