On the street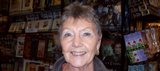 I just finished reading 'World Without End,' by Ken Follett. It's about 13th century England, but I almost think I liked 'Pillars of the Earth' better.
Fiction
1. "Devil Bones," by Kathy Reichs (Scribner, $25.95). In the 11th Temperance Brennan mystery, the forensic anthropologist must identify two victims of voodoo and devil worship.
2. "The Gypsy Morph," by Terry Brooks (Del Rey/ Ballantine, $27). In the third volume of the Genesis of Shannara series, champions of the Word and the Void clash.
3. "The Guernsey Literary and Potato Peel Pie Society," by Mary Ann Shaffer and Annie Barrows (Dial, $22). After World War II, a journalist travels to the island of Guernsey to meet residents who resisted the Nazi occupation.
4. "Silks," by Dick Francis and Felix Francis (Putnam, $25.95). A British defense lawyer and amateur jockey reluctantly represents another jockey who seems to be guilty of murder.
Nonfiction
1. "Stori Telling," by Tori Spelling with Hilary Liftin (Simon Spotlight Entertainment, $24.95). A memoir from the TV star.
2. "The Obama Nation," by Jerome R. Corsi (Threshold, $28). The Democratic candidate as an extreme leftist, from a co-author of "Unfit for Command: Swift Boat Veterans Speak Out Against John Kerry."
3. "Are You There, Vodka? It's Me, Chelsea," by Chelsea Handler (Simon Spotlight Entertainment, $24.95). Humorous personal essays from the stand-up comedian.
4. "When You Are Engulfed in Flames," by David Sedaris (Little, Brown, $25.99). The humorist's latest essays.
Copyright 2018 The Lawrence Journal-World. All rights reserved. This material may not be published, broadcast, rewritten or redistributed. We strive to uphold our values for every story published.