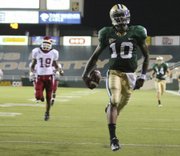 Baylor freshman quarterback Robert Griffin ran for a school-record 217 yards and two touchdowns on only 11 carries to lead the Bears to a 45-17 victory over Washington State on Friday night, a day earlier than scheduled because of Hurricane Ike.
Griffin threw for 129 yards, including a 27-yard TD pass to Ernest Smith, a play on which Griffin scrambled from one side of the field to the other before throwing off his back foot. He had TD runs of 1 and 58 yards, along with a 57-yard run that set up another score for Baylor (2-1) and a 58-yard sprint on his last play.
Washington State, forced to fly to Texas and play on the same day, dropped to 0-3 for the first time since 1999. The Cougars and first-year coach Paul Wulff were coming off the worst loss in school history, 66-3, to California.
The game was moved up from an 11:40 a.m. kickoff today to beat the expected deteriorating weather from Hurricane Ike. The massive storm was approaching the Texas coast about 230 miles away Friday night, and was then expected to move through the state.
There was a steady breeze of 10-15 mph with some higher gusts later in the game, but no rain.
Griffin was pulled after he scampered for 58 yards midway through the fourth quarter with the Bears up, 42-17. New coach Art Briles then put in Blake Szymanski, the starter last year when Griffin was playing regularly under the Friday night lights.
Copyright 2018 The Associated Press. All rights reserved. This material may not be published, broadcast, rewritten or redistributed. We strive to uphold our values for every story published.