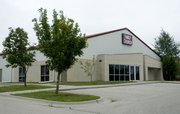 That night, the Lawrence Holidome - pardon, "Holy-dome" - was rockin' with God.
Crammed into a tiny suite because the conference room was double-booked, about 45 members of the Family Church of Lawrence spilled out onto the pool deck, singing, worshipping and praising the Lord.
No matter that they were elbow-to-elbow in the "Holy-dome," as they called it; they'd seen worse. They'd started as an outgrowth of a Johnson County megachurch that then withdrew its support and then had seen nine locations, including schools, churches and bookstores.
But they were still together - a church family - and that's all that mattered.
Now, after 2 1/2 years and all those locations, Family Church of Lawrence is ready to officially let the community know it has settled down. On Sunday, it is planning a special service and activities to celebrate finally finding a permanent home, 5150 Clinton Parkway. The church moved into the building in January but hadn't really begun making the space its own until this summer. Most recently, it added a stage and a large, light-up sign.
"Just over the last three weeks, I think we've had probably 24 to 26 visitors come in and visit, and a large majority of that has come in off just seeing the sign," pastor Ron Channell says. "It's a blessing."
Keeping it together
For this church, just having a sign and a permanent place to be is a blessing after a long nomadic life that made it difficult to keep and build a following.
"We were just kind of bouncing around, and it was hard to build any momentum because no one really knew where we were going to be from week to week. That was the challenge of being without a home," Channell says. "But you know what? God was always faithful, and we had this core group of people that really believed in the ministry and what we were all trying to accomplish together here in Lawrence. We just had a lot of passionate people about the Lord and said, 'You know what, one day it's going to happen,' and one day it did."
Those passionate core members included Melissa Frost and her family. Frost came to the church's very first meeting, up on the Kansas University campus back in August 2005, though it was admittedly a very different church back then. Then, it was related to First Family Church, a megachurch in Overland Park.
"We liked everything about it," Frost says. "That place was filled that night up on campus, and then we just kept following it."
First Family asked Channell and his wife, Vicki, to pray about coming to run the Lawrence branch of the church. Pastor Jerry Johnston, who is known for his television ministry through First Family, told the Journal-World at the time that he hoped the Lawrence congregation would become a 450-member arm of the megachurch, which at the time was drawing 2,200 people each week to worship.
It was January 2006 when the Channells decided running the church was right for them. Within weeks, First Family pulled out, the couple says, leaving the fledgling congregation in their laps.
And that was the best thing that ever happened to them, the Channells say.
"It was a little shocker. But ... it was the best thing that happened to us, because literally, and I tell people this all the time, it gave us only one way to look and that was up," says Channell, who stresses the church is no longer affiliated with First Family. "I believe God used that to launch our ministry here, but in his infinite wisdom, he knew that we had a different ministry than the other church, and really in essence, I'm thankful that door opened to get us to Lawrence, and I'm thankful that the door closed behind us because really the way we look at it, the beauty of God is, if we trust him, he'll work everything out for us in advance, even though we don't know what's around the corner."
Representatives of First Family Church could not be reached for comment this week. Last year, the church was at the center of controversy, with several members and former members claiming the church lacked proper financial oversight, and that hundreds of families had left the church over the concerns.
A leading radio network also dropped Johnston's show because of the concerns.
Building a home
The Channells had a vision for the church, and they quickly went about getting the word out about the congregation, all the while praying for a permanent place to call home.
"That was the thing we really had to trust God with," Channell says, "because ... we just kept saying, 'In your perfect timing, you'll open that door to give us an address.'"
That address ended up being the former Dance City building. It was perfect for the congregation - 60 to 80 worshippers and growing, though Channell has no plans for a megachurch.
"Our concern isn't to look and say we want X amount of people, because we don't just want to count people every week. What we want to do is let the word of God really change people and transform people's lives, so that they are living the word every day," Channell says. "So that they don't just show up once a week and then the rest of the week they're off and doing their own thing.
"We want the word to just saturate everybody that walks in those doors."
That way of thinking has changed the life of church member Bill Alt. After following his wife, Suzy, to the church about six months after she started attending, he soon realized it wasn't the rigid church of his childhood - and he loved it.
"After three or four months of going, it really started to, I guess you could say, transform me," Alt says. "I joined the worship team for singing up in front of the church and everything like that. We started teaching Sunday school."
That sort of participation is common at the church, Alt says. And it's something that really brings home that the church's family-based ideology.
"Everybody just kind of pitches in and does what they can to make it as good as of a church as it can be. Pastor Ron and his wife really set the foundation for that," Alt says. "All the other members are just trying to grow on top of that. It's like a bunch of church families making up Family Church, as I like to put it."
Copyright 2018 The Lawrence Journal-World. All rights reserved. This material may not be published, broadcast, rewritten or redistributed. We strive to uphold our values for every story published.