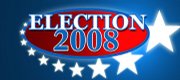 In-depth coverage of the candidates and the issues, all leading up to the Aug. 5 primary and the Nov. 4 general election.
Libertarian state Senate candidate Patrick Wilbur, of Lawrence, said Friday that if elected he would work to eliminate the sales tax on groceries.
"If the Legislature really cares about middle class Kansans, it is time to show a tangible effort," Wilbur said. "Repealing this regressive and unavoidable tax is a good way to start," he said.
A repeal of the tax on food would cost the state treasury about $250 million per year, according to Wilbur.
He said he believed the state could make up for this loss of revenue, noting that a recent audit showed the state spent $1.3 billion on economic development over the past five years without being able to determine whether the expenditure helped.
"Perhaps we should try and promote economic development the old-fashioned way - with a low tax burden," Wilbur said.
Wilbur is running for the 3rd District Senate seat, which is currently held by Roger Pine, a Republican from Lawrence. State Rep. Tom Holland is the Democrat in the race.
Pine said he didn't favor elimination of the sales tax on groceries.
"This is probably a difficult time to make that kind of a change when local communities are struggling to meet needs," Pine said.
Holland could not be reached for comment.
Of the 45 states that levy a sales tax, 31 have exempted food from the tax, according to the Center on Budget and Policy Priorities. Of the 14 remaining that tax food, seven tax it at a lower rate than other goods, while seven, including Kansas, tax food at the full tax rate. Kansas does offer a sales tax refund for low-income residents.
An attempt to phase out the state sales tax on food in 1999 was approved in the House, but it later failed in the Senate.
Copyright 2018 The Lawrence Journal-World. All rights reserved. This material may not be published, broadcast, rewritten or redistributed. We strive to uphold our values for every story published.