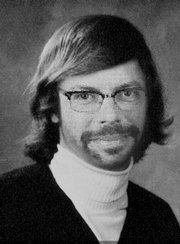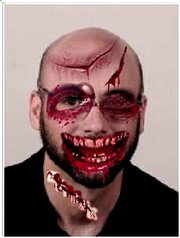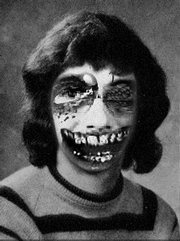 In past decades people lived in fear of being shown pictures that caught them in compromising positions.
But in the post-Internet age, folks seem to embrace it.
How else to explain the dozens of Web sites devoted to placing one's own photo into silly and/or horrifying contexts? All it takes is a little Photoshop-style manipulation, and the fun begins.
Take the site Man Babies, for instance. The title says it all, as does the File Under tag at the bottom of the page which suggests: Funny Weird Creepy Photoshop Humor.
Basically the site posts pics in which the heads of a father and son have been switched. Through some resizing, shadowing and color correction, the results are as disturbing as one of those "Baby Geniuses" movies.
Personal favorites include baby-daddy feeding daddy-baby Gerber peas in his high chair. Or muscle-bound baby-guy tossing his bearded father-baby into the air while the adult-infant screams.
Yuck.
Sometimes a Web site will even do the photo work for you.
Check out Yearbook Yourself. The site allows you to see yourself as a member of any high school class between 1950 and 2000. The hair styles, the clothing, the self-loathing.
All you do is select gender, load a mugshot - a la my Net Worth photo - and use the image tools to match it up.
Then you must select your mall. Huh?
Actually the site is a clever interactive ad for shopping malls (links take you to online purchasing options for things like Gap, etc.). But the mall choices really do affect the photos, as those located in Minneapolis feature different looks than those in San Francisco.
A little original music accompanies the finished yearbook photos.
I think I look particularly stylish in the puffy 1988 mullet, which is unified by the generic hair-metal power ballad on the soundtrack. The 1976 Leif Garrett mode (pictured above) is also spiffy.
Ah, I remember hair well.
If you really want to alter your look, try out the Zombie Face Changer.
The site is part of the promotional materials for the film "Diary of the Dead," the latest (and not necessarily greatest) effort from undead-flick patriarch George Romero.
The process is easy - though it takes awhile to load. Once again you upload a portrait, then you get to add all kinds of zombie bits: swollen eyes, bloody mouths, sickening scars. Capping the process is the "facial decomposer bar," which lets you go from Jude Law to Peter O'Toole in no time.
To see a zombified picture of me, look above.
You're on your own with the Man Babies.
Copyright 2018 The Lawrence Journal-World. All rights reserved. This material may not be published, broadcast, rewritten or redistributed. We strive to uphold our values for every story published.