Photo Gallery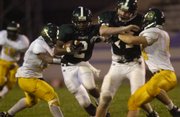 Free State football vs. Shawnee Mission South
Life for a 5-foot-7, 160-pound quarterback can be tough. Take, for example, the most basic of plays - when offensive linemen pop out of their crouch after the snap. Sometimes seeing receivers downfield is possible, sometimes not. Camren Torneden knows all this firsthand.
He'd rather dare defenders to catch him instead - if they can, that is.
Torneden, Free State High's diminutive do-everything athlete, made his debut as the team's starting signal caller Thursday night at Haskell Stadium. He couldn't always see over his linemen, so he chose to find the seams between them, running through and around Shawnee Mission South in a 28-7 victory.
"He's very versatile, and he's a good athlete," Firebirds coach Bob Lisher said of Torneden, who also played cornerback and returned punts. "Obviously, we should probably get him off some of those special teams. I think that's going to happen pretty quick."
Torneden, along with tailback Chucky Hunter, made running the football look as smooth as silk. For the game, the duo rushed for 272 of the Firebirds' 340 ground yards.
Hunter, who stands 5-9, actually looked like a giant in the backfield in comparison.
"That's the first time being taller than my quarterback," Hunter said, "but he played pretty well. He's confident when he gets the ball."
Torneden and Hunter wasted little time in making it known that Free State's running game would be the biggest factor of the evening.
Following two consecutive Tornedon rushes for first downs, Hunter broke open the scoring on the Firebirds' first offensive possession. He raced right up the middle, shifted to the left side of the field and skated untouched 64 yards for the score.
The Raiders (0-2) actually gained the lead - albeit briefly - on their only points of the game with 3:01 left in the first quarter. Quarterback Dustin King polished off a short field drive with a one-yard TD following a Torneden muffed punt recovery on the slick Haskell field.
Torneden more than made up for his error.
On perhaps the most spectacular play of the night, he juked and jiggled his way around the entire SM South defense like a joystick out of the backfield, scooting into the open field. When two Raiders converged on him on the sideline at the 5, Torneden cut back, bowling his way into the endzone for a 42-yard score. The touchdown came just 85 seconds after the Raiders' points and it put FSHS ahead, 13-7.
In the first half alone, Torneden rushed for 146 yards on just eight carries. By game's end, both he and Hunter had carried 14 times: Torneden for 143 yards and Hunter for 129.
"I didn't think I would get the ball as much as Chuck," Torneden said, "but it measured out. We talk about us all the time, like a 1-2 punch. I don't know, it's good."
Running back Kirk Resseguie, who didn't even get a carry in last week's 40-19 loss against SM West, contributed 52 yards on seven carries as well.
Hunter said he knew he and Torneden could create problems for defenders with their speed. But he also credited his offensive line of Grahm Sanders, Doug Bittinger, Michael Lisher, Colter Scott and Matt Franz for the big holes.
"You could drive a truck through it," Hunter said.
Hunter also added a 41-yard punt return for a score just before halftime to put FSHS ahead 19-7 at the break. And for good measure, Torneden added a passing TD in the third quarter, finding wide receiver Aundre Allen from five yards out for the final points of the contest.
The Firebirds easily could have left Haskell Stadium with a bigger victory, but they twice failed to convert on fourth-and-goal inside the 10.
Defensively, Free State was just as stout, allowing 53 yards on 31 rushes. FSHS also never allowed King to find a rhythm at QB, as he completed 9-of-23 passes.
Lisher said his team regained the confidence it lost during last week's disappointing loss. And just in time, too. Free State (1-1) will take on defending Sunflower League champs SM Northwest on the road next week.
"I think we're back on track," Lisher said. "We made drastic improvements off of last week, and that's what you have to do from week to week. We have to continue to improve that much each and every week."
Copyright 2018 The Lawrence Journal-World. All rights reserved. This material may not be published, broadcast, rewritten or redistributed. We strive to uphold our values for every story published.