KU vs. South Florida: Postgame
Photo Gallery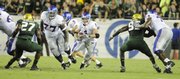 KU vs. USF
-->
-->
-->
Audio Clips
2008 KU-USF
12:10 a.m. CT
I saw some comments below saying Todd Reesing was greedy on his interception throw. After talking with him after the game, I thought I'd explain the play a little more.
Here's an excerpt from my sidebar going in Saturday's Lawrence Journal-World. Check out Saturday's paper for the full story.
Here was the setup: With the ball at the Kansas 40, the Jayhawks had a first-and-10 with 41 seconds remaining.
The KU coaches had noticed that the USF safeties were playing wide, so the opportunity was there for a deep post pattern over the middle. The Jayhawks hadn't tried the play all game.
As expected, Brown broke free behind the cornerback in the secondary.
"That's where the coaches wanted the ball to go, and we wanted to try to hit them," Reesing said. "We got what we wanted. I just kind of threw off my back foot a little bit and just didn't quite get enough there."
Because the pass was short, Allen was able to recover enough from his safety position to move back and make a leaping play.
"If I had to do it again, I'd probably make the same decision," Reesing said. "I just didn't make the play."
I hope that helps everyone understand the play a little more in depth.
Final, USF wins 37-34
Bonani's 43-yard field goal split the uprights as time expired, giving the Bulls the victory.
2 seconds left in fourth quarter, Game tied at 34
After a USF run play, Bonani will attempt a 43-yard field goal to win it.
30 seconds left in fourth quarter, Game tied at 34
A gutsy call by KU offensive coordinator Ed Warinner gives the Jayhawks a crucial first down, as on third and nine, Quigley runs 20 yards on a draw play. On the next play, Reesing throws a deep ball into double-coverage, and Nate Allen picked it off and returned it to the KU 27.
1:54 left in fourth quarter, Game tied at 34
Grothe completed four passes to help move USF to the KU 42. Grothe, however, made a throw past the line of scrimmage while scrambling, resulting in an illegal forward pass penalty. Grothe threw a seven-yard pass on third and 11, and after a punt, KU will take over on its own 7-yard-line.
5:32 left in fourth quarter, Game tied at 34
Reesing is willing KU back into this game. After George Selvie's first sack of the year, Reesing delivered a strike to Kerry Meier over the middle for 26 yards on a third and 20. Reesing later finds Angus Quigley on a shovel pass, and Quigley won't denied, bounding his way through tacklers 14 yards into the end zone. Branstetter's PAT is good, and all of a sudden, the Jayhawks have tied this one up.
7:42 left in fourth quarter, USF leads 34-27
James Holt comes up with KU's defensive play of the game, pulling down Grothe for a 13-yard sack on a third and one. After a punt, KU takes over at its own 45 with some momentum.
9:51 left in fourth quarter, USF leads 34-27
Reesing once again makes something out of nothing, scrambling all over the pocket before finding Wilson in the back of the end zone for an 18-yard touchdown. The question looms, though: Can KU's defense stop South Florida once to give the offense a chance?
9:59 left in fourth quarter, USF leads 34-20
Despite heavy pressure throughout, Reesing has moved KU down inside the USF 20 to give the Jayhawks a glimmer of hope. They'll need a touchdown here if they want to give themselves any chance of coming back.
13:59 left in fourth quarter, USF leads 34-20
Another 15-yard penalty hurts KU, and Grothe delivers a perfect 37-yard touchdown pass down the left sideline to A.J. Love. USF has now scored 31 unanswered points.
End of third quarter, USF leads 27-20
KU's self-destruction continues on its next offensive possession. A 12-men-in-the-huddle penalty pushes the Jayhawks back five yards before a snap. Two negative plays later, and the Jayhawks are facing a near-impossible third and 21.
1:09 left in third quarter, USF leads 27-20
There's no other way to say this: The Jayhawks are getting manhandled up front. Taylor runs a touchdown in from 13 yards, but Grothe also has no pressure at all in the pocket. Five plays, 71 yards, and 1:58 is all it takes for the Bulls to grab a seven-point lead.
3:07 left in third quarter, Game tied 20-20
KU manages only one first down on a pass-interference penalty. A holding call from center Ryan Cantrell is a killer, and the Jayhawks are forced to punt it back to the Bulls.
4:22 left in third quarter, Game tied 20-20
A 22-yard touchdown pass from Grothe to Taurus Johnson is initially ruled incomplete, but later is overturned after video review. After the Bonani kick, USF ties it and has all the momentum.
4:42 left in third quarter, KU leads 20-13
The Jayhawks defense catches a huge break, as Jamar Taylor runs 54 yards for an apparent touchdown before being marked back at the KU 34 after stepping out of bounds at that spot. USF driving at the 22 now after converting a third and 10.
7:41 left in third quarter, KU leads 20-13
A false start penalty followed by a Wilson dropped pass leads to another three-and-out. A worn-out KU defense will have to go right back onto the field. The USF fans are really into it now. Momentum is on the Bulls' sideline as they take over at their own 34.
9:30 left in third quarter, KU leads 20-13
After a KU three-and-out, the Jayhawks defense starts to give up yards in chunks. KU can't get any pressure on Grothe, and now, the Jayhawks are having trouble stopping Plancher in the running game. Bonani knocks through a 23-yarder to make it a one-possession game. The Jayhawks need to show some versatility on offense, as USF is starting to key in on the pass.
HALFTIME LEADERS
Kansas
Passing:
Todd Reesing 17-for-22, 226 yards, TD
Rushing:
Reesing 4 carries, 22 yards, TD
Jocques Crawford 4 carries, 15 yards
Receiving
Johnathan Wilson 5 catches, 123 yards
Kerry Meier 4 catches, 41 yards
South Florida
Passing:
Matt Grothe 17-for-26, 133 yards
Rushing:
Grothe 5 carries, 23 yards TD
Mo Plancher 3 carries, 6 yards
Receiving:
A.J. Love 3 catches, 38 yards
Jessie Hester 4 catches, 31 yards
Halftime, KU leads 20-10
A quick three-and-out from KU, and suddenly the Bulls are running with some confidence. Their final drive stalls, though, and the Jayhawks enter the locker room with a 10-point lead.
2:14 left in second quarter, KU leads 20-10
As soon as KU looks like it's going to run away with the game, USF comes right back 70 seconds later. After two long passes, Grothe scoots his way to a 28-yard touchdown run - the first the Jayhawks have given up on defense all year. Bonani's extra point cuts the lead to 10 and brings the once-deflated crowd back into it.
3:24 left in second quarter, KU leads 20-3
Another phenomenal drive from Reesing. A touch pass to Meier, a throw in the flat to Dezmon Briscoe and a screen to Jocques Crawford and suddenly KU is inside the 10. Reesing takes it into the end zone himself on a quarterback draw, and suddenly, the Jayhawks are on the brink of a rout.
6:53 left in second quarter, KU leads 13-3
Reesing is in his element tonight. After a pump-fake, he placed a deep throw into the arms of Wilson, who took it 56 yards down the sideline to the USF 14. KU is stopped in the red zone, but Branstetter once again is perfect with a 28-yard field goal (he's now 5-for-5 this year, for those of you keeping track).
9:58 left in second quarter, KU leads 10-3
A long drive once again stalls near the goal line for USF, but Bonani connects on this 34-yard, field-goal attempt. KU's Joe Mortensen just misses out on an interception on third down. Grothe looks uncomfortable when KU brings the blitz, so we'll see if the Jayhawk coaching staff continues to gamble by bringing extra rushers.
13:16 left in second quarter, KU leads 10-0
KU's defense holds USF at the 24, and redshirt freshman kicker Maikon Bonani misses the first field-goal attempt of his career (a 41-yard try) to give the ball back to the Jayhawks. Daymond Patterson drops a well-thrown Reesing pass on third down to force the Jayhawks' first punt. The Bulls will take over at their own 27.
End of first quarter, KU leads 10-0
Grothe burns KU on a third and nine with a 29-yard pass down the sideline. Again, the Jayhawks couldn't get any penetration from the defensive line. USF moves up to the KU 27 after a 15-yard facemask penalty by Jake Laptad. All in all, though, a solid first quarter for the Jayhawks.
1:44 left in first quarter, KU leads 10-0
Jacob Branstetter completes an impressive KU drive with a 30-yard field goal. Wilson again has the big play, catching a 22-yard pass over the middle from Reesing. The Jayhawks quarterback already has 100 yards passing. KU's offensive playbook, as we somewhat guessed would happen, has opened up quite a bit for this nationally televised contest.
6:44 left in first quarter, KU leads 7-0
KU's defense forces a second straight punt, thanks to a third-down, shoestring tackle by Darrell Stuckey on running back Benjamin Williams. KU takes over at its own 30. Mangino has to like this start.
8:51 left in first quarter, KU leads 7-0
KU jumps ahead after a nifty 36-yard catch and run down the sideline by Johnathan Wilson. He broke three tackles on his way to the end zone. The drive was kept alive by a 13-yard scramble by Todd Reesing on a third and 13. The crowd, which was raucous to start, seems a little stunned.
12:10 left in first quarter, Score tied 0-0
The Kansas secondary does a nice job to force a South Florida punt. The Jayhawks' defensive linemen didn't get much pressure on quarterback Matt Grothe, and they'll need to as the game goes on. After a horrible punt, KU to take over at its own 29.
7:06 p.m. CT
USF will receive. Here we go.
6:59 p.m. CT
Fans are filling in nicely, but it won't be close to a sellout. Still, this is a pretty big stadium to fill.
6:05 p.m. CT
A funny scene: Just as the fans were starting to settle in, a brief downpour hit Raymond James Stadium (with the sun still out, no less), sending most of them scurrying up the stairs for cover. The forecast is showing that we probably won't have rain once the game begins, but the field might be a little wet to start because of this shower.
The fans look amped for this one. As I walked in, I saw some green "Beat Kansas" T-shirts. Make no mistake: The South Florida fans have been looking forward to this night for a while.
4:50 p.m. CT
It's about two hours until kickoff on Friday, so to pass the time, let's do a little true/false and fill-in-the-blank on tonight's game between Kansas and South Florida. I'll go first, then you fill in your answers in the comments section at the bottom of the page.
1. True or false: KU will rush for more than 150 yards against South Florida.
True. Call it a hunch, but I think this will happen. Yes, KU has struggled with the run game through two games, but this is a contest where the Jayhawks must run the football, especially with pass-rush specialist George Selvie on the other side of the ball. I would look for the Jayhawks to make more of an effort to run the ball tonight. My sleeper pick for KU: running back Jake Sharp. Two weeks ago he was the top back, and now he seems to be somewhat forgotten behind Angus Quigley and Jocques Crawford. KU coach Mark Mangino said this week that Sharp was a "complementary back," and Sharp might have to have a good game to stay in line for carries in a crowded backfield.
2. True or false: Matt Grothe will rush for 80 yards or more.
True. Grothe has been known to beat teams with his legs, and I expect he'll have a big rushing game against the Jayhawks tonight. KU hasn't defended quarterback scrambles well through two games, and that was against less-than-agile signal-callers. Look for Grothe to have one big run to go along with some other rushes that help his team on crucial third downs.
3. True or false: South Florida's George Selvie will have two sacks or more against KU.
False. The huge crowd should help out Selvie, but I wouldn't expect him to see anything less than a double-team all game. Mangino moved freshman Tim Biere, the Jayhawks' best blocking tight end, up to the first team this week. Coincidence? I think not. Expect Biere to help out Spikes on the left side on most plays. Selvie might get a sack, but I don't see him getting two.
If KU wins, it will be because ...
the Jayhawks stop USF's rushing offense. KU must make Grothe beat them with his arm. Though the quarterback has been known to make some great throws, he also has been prone to turnovers. If the Jayhawks can stop the Bulls' rushing attack and also the scrambles of Grothe, they have a better chance of creating a turnover or two that could decide this game.
If USF wins, it will be because ...
the Bulls dominate the line of scrimmage on both sides of the ball. This looks to be South Florida's biggest advantage coming in. On defense, if the Bulls can stop KU's running game, they will force the Jayhawks to pass with a raucous crowd and the always-dangerous Selvie coming at Reesing's blind side. On offense, if the Bulls can establish the run, they will take pressure off Grothe, making it so that he doesn't have to take chances in the passing game. USF looks to be inferior to KU in some other areas (like special teams), so if the Bulls hope to win, they must dominate in the trenches.
Prediction: KU 27-17. Expect a low-scoring game with two good defenses going at it. Look for Reesing to make fewer mistakes than Grothe, and also look for KU to get its rushing game going for the first time this season. The Jayhawks' special teams will help set up a pair of scores, and KU pulls away with a late touchdown.
Let's see what you've got.
Copyright 2018 The Lawrence Journal-World. All rights reserved. This material may not be published, broadcast, rewritten or redistributed. We strive to uphold our values for every story published.