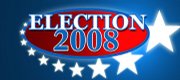 In-depth coverage of the candidates and the issues, all leading up to the Aug. 5 primary and the Nov. 4 general election.
Area residents can register to vote and meet local and state candidates at Saturday's Farmers' Market.
The Voter Education Coalition invited candidates for the Douglas County Commission and state Legislature to participate in a meet-and-greet event with voters from 7 a.m. to 11 a.m. at the market, Ninth and New Hampshire streets.
It's not clear which candidates will attend the event, but organizer Jane Bateman said invitations were sent to all county and state candidates.
The League of Women Voters of Lawrence-Douglas County will register voters at a booth in the southeast corner of the market, as well.
A similar event is scheduled for Oct. 11. The League of Women Voters will be there rain or shine.
Copyright 2018 The Lawrence Journal-World. All rights reserved. This material may not be published, broadcast, rewritten or redistributed. We strive to uphold our values for every story published.