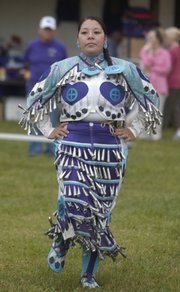 Anyone in the market for arts and crafts can hit the jackpot this weekend in Lawrence.
Both the Haskell Indian Art Market and the Lawrence Fall Arts and Crafts Fair are expected to draw thousands to town, though organizers are a bit concerned this year about the turnout.
"We're kind of a little bit wondering - in the past we've had upwards of 30,000 to 40,000 people come through the market for the entire weekend - but due to gas prices, even some of the vendors themselves are finding it difficult to get here," says Kerry Girty, booth coordinator for the market at Haskell Indian Nations University.
The Haskell market, the 20th annual, runs from 10 a.m. to 6 p.m. Saturday and 10 a.m. to 5 p.m. Sunday at the university, near 23rd Street and Barker Avenue. It will feature 150 vendors, many from the Southwest, representing such art forms as basket weaving, pottery and beadwork.
"A lot of them (the vendors) will visit with you about the exact process of how they made something, and what it means to their family," Girty says.
American Indian music and dancing is scheduled from 11 a.m. to 4 p.m. both days.
Meanwhile, South Park is expected to see between 7,000 and 9,000 visitors Sunday for the 29th annual Lawrence Fall Arts and Crafts Festival.
Duane Peterson, special events supervisor for Lawrence Parks and Recreation, says around 170 vendors are expected for that event. It runs from 10 a.m. to 5 p.m. Sunday.
"There are all kinds of different things," he says of the vendors. "It's good for people who are starting to look for the holidays."
Music is scheduled from noon to 5 p.m., starting with the Lawrence City Band playing a concert tribute to the city's 154th birthday.
Copyright 2018 The Lawrence Journal-World. All rights reserved. This material may not be published, broadcast, rewritten or redistributed. We strive to uphold our values for every story published.