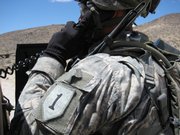 Topeka — The Army's oldest division is beginning a new campaign with one of the nation's oldest retailers.
Starting next month, 550 Sears stores nationwide will begin selling the 1st Infantry Division collection, a line of clothing with the insignia and colors of the Army's Big Red One.
Royalties from sales will go to programs for soldiers and their families, but a spokesman for the division acknowledges that some veterans think only those who have been in the Big Red One should be wearing the insignia.
Such items previously were sold only through veterans organizations, such as the Society of the 1st Infantry Division.
Still, Maj. Nathan Bond, spokesman for the division at Fort Riley, said it's an honor for the division, which was told of the plan before it was rolled out. Items that will be for sale include T-shirts, hooded sweat shirts, denim and outerwear, with prices ranging from $11.99 to $119.99.
"It's not a surprise that we were chosen to do this," Bond said. "Whether it's right or wrong, we really don't have a say in the matter."
The Army licensed All American Apparel in June 2007, based on a recommendation from its official licensing agency. It was the first time the Army has licensed the use of any of its marks or insignia for sale to the public.
"Over the years, military-inspired clothing has played a distinct role in shaping fashion trends," said Craig Israel, senior vice president of Sears Holding Corp. and president of Sears Apparel. "We are now able to exclusively offer a line that is pure to the origins of that inspiration."
Army officials say the new clothing line will be a way for Americans to show their pride, while also elevating the Army's profile.
"Strong brand identification through retail sales of products potentially can enhance Army recruiting and the public's general goodwill toward the Army and its activities," said Army spokesman Paul Boyce.
The 1st Infantry Division traces its lineage to World War I. Its insignia is a red numeral "1" on a field of green, worn on a soldier's left shoulder. More than 15,000 of the division's soldiers are assigned to Fort Riley, with an additional 3,500 assigned to Fort Hood, Texas.
The division has fought in every U.S. conflict since World War I except the Korean War.
The military has issued about 100 trademark licenses over the past four years, though most are sold only at Army or Air Force post exchanges.
Copyright 2018 The Associated Press. All rights reserved. This material may not be published, broadcast, rewritten or redistributed. We strive to uphold our values for every story published.