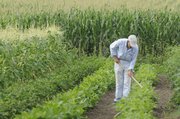 For the past 17 years, Corbet Collins has been the Santa Claus of produce for many in the Lawrence area.
Only you don't have to be naughty or nice to get your Christmas in July. You just have to keep your wallet out of sight.
Starting each spring and continuing until the first blush of fall, the Lawrence resident doles out many of the fruits of his garden - giving them by the bagful to neighbors, retirement community residents and anybody stopping by his plot of land near the Lawrence Municipal Airport.
He won't take any money for the bounty of his acre garden, just a smile.
"Oh no, I don't sell nothing. Nope, no," says Collins, 74. "You know what I've always told them: 'If it's good, that's fine, if it's bad, you can't complain - the price is right.'"
And this year, with the slumping economy hitting food prices especially hard, Collins has had quite an easy time finding homes for his fruits and vegetables.
"This year, it hasn't been no trouble, people are just waiting for it now. I mean, I guess things are a little tighter than normal," Collins says. "I used to have some trouble giving it away. I mean, it would be backing up on me. ... But this year, guess what? I think more people was wanting those fresh vegetables and stuff."
In the beginning, Collins didn't know he was in for a community garden. He and his wife, Jean, bought a plot of North Lawrence land, a few miles from their longtime Lawrence home. There was an old farmhouse on the acre of land, and Collins was convinced he could fix it up and then set up a nice garden on the rest of the plot.
But the house turned out to be too termite-ridden to salvage, and he got permission from the city to burn it down. In its place, the entire property became one big garden.
Collins planted rows of potatoes, corn, beans, tomatoes and okra. And when it came time to harvest, he began bringing it over to neighbors, such as Donna and Mike Neuner. The Neuners, the Collins' neighbors for 30 years, have to buy very few vegetables in the summer because Collins keeps their pantry full.
"We can't say enough things about his generosity," Donna Neuner says. "We've been neighbors for many years, and it seems to be something that he's avidly interested in - loves to garden, loves to spend time out there and loves to give his produce away. I've tried to convince him to open a vegetable stand or go to the farmers' market, but he loves giving it away and wouldn't have it any other way."
And his generosity hasn't stopped at his neighbors or friends, either. Eager to help those who may not be able to have access to much fresh produce, Collins brings baskets of vegetables by different communities for retirees in the area, most notably Babcock Place, 1700 Mass., and Vermont Towers, 1101 Vt.
"You should see the look on these old people's face when you give them something, I'm telling you," Collins says. "I went over there one day to Babcock and I was taking some stuff in and this little lady there, she must have been 90 years old, she says, 'Is this all for us, sonny?' and I said, 'Yes, ma'am, they is,' and she said, 'Thank the Lord.'"
Keeping going
Collins hopes to be hearing exclamations like that for years to come. He's been giving away buckets of produce for years now, and he couldn't imagine it any other way, even if it means almost as much work during retirement as his former life in the restaurant business - at least in the summer.
He sometimes puts in seven or eight hours a day in the garden and preparing the produce.
And folks have come to notice when he can't put in that time.
"One year, something happened, I think I had a funeral down South, some of my relatives died and I had to go and I didn't get my garden in. And I had a couple of people call later and wanted to know if I was in the hospital or had died," Collins says.
Neighbor Ardis Jones, 79, says that Collins never fails to be a good neighbor, whether his garden does well that year or not. She says she loves eating Collins' vegetables, but she loves having him and Jean around even more.
"I feel very fortunate to live across the street from them," Jones says. "They're great people. You just can't find better neighbors, I mean, they're there for anything - not just the produce."
- Staff writer Sarah Henning can be reached at 832-7187.
Copyright 2017 The Lawrence Journal-World. All rights reserved. This material may not be published, broadcast, rewritten or redistributed. We strive to uphold our values for every story published.