-->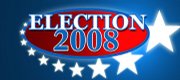 In-depth coverage of the candidates and the issues, all leading up to the Aug. 5 primary and the Nov. 4 general election.
Topeka — Next week's scheduled visit by President Bush for a private fundraiser for Republican congressional candidate Lynn Jenkins has set off political fireworks.
Jenkins is challenging U.S. Rep. Nancy Boyda, D-Topeka, in the Nov. 4 election for the 2nd Congressional District, which includes west Lawrence, Topeka, Manhattan and much of southeast Kansas.
In 2006, Boyda defeated five-term incumbent Republican Jim Ryun and since then the national Republican Party has targeted Boyda for defeat. Ryun lost a comeback bid in the August primary against Jenkins, who is currently the state treasurer.
Last week, it was announced that Bush will be the featured guest Sept. 16 at an invitation only fundraiser for Jenkins at the Topeka home of attorney Tony and Jana Barry.
The luncheon will cost $5,000 per person and $7,500 per couple for preferred viewing during Bush's remarks and a photo with the president. To simply attend will cost $500 per person.
The Kansas Democratic Party said Kansas taxpayers will bear most of the cost of Bush's visit and the associated travel expenses of Air Force One and Secret Service protection.
"You don't have to be a CPA to know that it's wrong to bill Kansas taxpayers for your private parties," said state Democratic Party executive director Mike Gaughan.
"In these tough economic times, the last thing Kansas families can afford is Jenkins' lavish party with the very person whose failed policies she claims to reject: George W. Bush," he said.
According to a 2006 U.S. House report, political campaigns reimburse the government for only a small fraction of the cost of campaign-related trips by Bush and Vice President Dick Cheney.
The report said the cost to operate Air Force One is about $56,518 per hour. Campaigns pay roughly the amount it would have cost to fly participants in the event on commercial airfare.
Meanwhile, the Jenkins' camp responded to the criticisms by turning its fire on Boyda, accusing her of supporting the largest tax increase in U.S. history. Boyda's campaign has denied the charge.
Republicans have argued that the Democrats' budget resolution will lead to a tax increase, but Democrats, such as Boyda, have said the resolution is aimed at eliminating the budget deficit, funding critical needs and preserving middle class tax cuts.
Allan Cigler, a political science professor at Kansas University, said having Bush come in for a private fundraiser was probably politically smart for Jenkins.
The visit helps her solidify support among social conservatives who had backed Ryun in the GOP primary. And, he said, by keeping the president out of a public forum, it also allows Jenkins to distance herself from his unpopular standing. Bush's job approval rating was at 34 percent in recent polls.
Meanwhile, Cigler said, Jenkins will probably raise several hundred thousand dollars in the event.
"At this stage of the game, money is probably more important than a little negative publicity. People who would be upset that Bush was coming in to raise money for her probably weren't going to vote for her anyway," he said.
In 2006, Bush stumped for Ryun two days before the election with a rally at the Kansas Expocentre. He gave about a 40-minute speech to a crowd of approximately 7,000 people. In October, Vice President Dick Cheney stopped in Topeka to help raise $209,000 for Ryun.
But Cigler said Bush's visit for Ryun probably had little to do with the outcome of the race, which Boyda won.
"He (Ryun) was in trouble before that happened," he said.
Copyright 2018 The Lawrence Journal-World. All rights reserved. This material may not be published, broadcast, rewritten or redistributed. We strive to uphold our values for every story published.