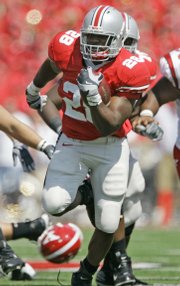 Columbis, Ohio — Ohio State will have its Beanie back for Southern California.
Buckeyes tailback Chris "Beanie" Wells has been given the OK to play in the showdown at No. 1 USC on Saturday night.
Wells, who rushed for 1,609 yards and 15 touchdowns a year ago, went down with a foot injury in the second half of the fifth-ranked Buckeyes' opener against Youngstown State and did not suit up when Ohio State struggled to beat Ohio University, 26-14, last week.
But coach Jim Tressel said Tuesday that Wells would definitely play against USC.
"You know, Beanie ran well yesterday," Tressel said. "In fact, he ran better than I thought he might."
The next test for the 6-foot-1, 237-pound Wells is how he feels after going through his first workouts in 10 days.
"The big thing is Tuesday and Wednesday work and will that create soreness," Tressel said. "Not only was he running well, then they (trainers) put him on the bike and wore him out, so they're trying to do all the things. He's been in the underwater treadmill and anything we can do, we're doing (with rehab). I feel good about him."
Wells would seem to be a weapon the Buckeyes (2-0) cannot do without against the fearsome Trojans (1-0) in the first meeting between the two old rivals in 18 years.
Defensive lineman Lawrence Wilson, one of Wells' best friends, said he believes Wells will give the Buckeyes a big lift.
"Beanie told me he was going to play, and when Beanie says he's going to do something, he does it," Wilson said. "He's a tremendous competitor. I know when he says he's going to play, to play."
The only catch in Wells' rapid return to action is that he won't really be participating in full-contract workouts until at least Wednesday. Ohio State's trainers will work with him away from the team on Tuesday and then will watch closely when he practices with his teammates a day later.
"If he steps on the field, he's going to give it his best. And his best is pretty good, you know," offensive tackle Bryant Browning said. "Yesterday I saw him running and he said he felt pretty good. He said he wasn't in much pain at all. He said he would be ready."
Tressel said Wells told him, "I'm ready to carry 45 times on Saturday."
Copyright 2018 The Associated Press. All rights reserved. This material may not be published, broadcast, rewritten or redistributed. We strive to uphold our values for every story published.