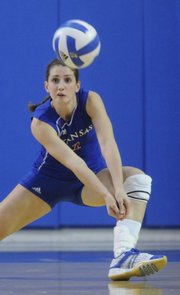 Just because Nicole Tate and Allison Mayfield are starters now doesn't mean they're devoid of rookie chores.
The two first-year Kansas University volleyball players still must perform the requisite mundane tasks, from getting water bottles for teammates to carrying players' gym bags. No special treatment.
"Yes, we're still freshmen, believe me," Tate said. "Maybe on the court we all act as one team, but off the court, we're still the little babies on the team."
Tuesday night, there was nothing childish about their play. The newbies displayed veteran moxie in leading Kansas to a 25-14, 25-22, 16-25, 25-14 victory against University of Missouri-Kansas City.
Mayfield set a career high with 12 kills, while Tate became the first KU player to record a double-double this season with 42 assists and 12 digs.
"Anytime freshmen can come in and make a difference like that and contribute, it gives them a great deal of confidence," assistant coach Christi Posey said. "They can't play like freshmen in this conference, and they're going to have to continue to step up."
Head coach Ray Bechard was absent, mourning the loss of his brother to cancer.
"We're clearly trying to do things very similar to what coach would do tonight," said Posey, who took over Bechard's duties. "He certainly was on our mind tonight as we prepared. The kids really wanted to perform well for him."
The Jayhawks improved to 4-2 this season, despite dropping a set to UMKC (2-7) for the first time in seven years. But they could be forgiven if their minds weren't fully on the Horejsi Center court.
Sophomore Karina Garlington, who set a career high with 18 kills, said not having Bechard on the sideline was difficult.
"It really took a toll on our whole team," she said. "It was really emotional for us. But we just wanted to come out tonight and play for the Bechard family and do what we could to help them out. ... We tried to play our best for him tonight."
KU certainly didn't play its best match, but behind Garlington, Tate and Mayfield, the Jayhawks fended off a very game UMKC squad.
Mayfield slammed her fifth kill of the match to end the first set in just 18 minutes, and it appeared the Jayhawks would win with relative ease. In set two, UMKC came back to tie on four occasions, but KU held off a comeback each time.
UMKC took its first lead at 3-2 in the third set and slowly pulled away from KU to close within a set.
Following a quick KU start in set four, the Kangaroos scored five straight points to narrow the gap to 11-10. But Tate slapped a kill with her deceptively quick left hand, and Mayfield struck next two points later. By the time Garlington had her 18th kill, KU held a 17-12 edge and wasn't threatened again.
Like many matches in the eary season for Kansas, creating consistency has been a point of emphasis.
"We know that what we did in that third game, we can't do anymore," Mayfield said. "We're going to work on it in practice, just putting ourselves in different situations and trying not to let that happen again."
Kansas will travel to Wyoming for the Cowgirl Classic on Friday, and Bechard is expected to rejoin the team.
Copyright 2018 The Lawrence Journal-World. All rights reserved. This material may not be published, broadcast, rewritten or redistributed. We strive to uphold our values for every story published.