Ramona Morgan guilty verdict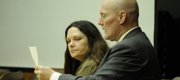 Ramona Morgan was found guilty of killing two men and injuring a third when she drove her truck through a construction zone on U.S. Highway 59 south of Lawrence on Sept. 11, 2007.
Jurors deliberating the fate of a woman accused in a fatal 2007 Douglas County hit-and-run have asked the judge another question at 11:15 a.m. Tuesday.
District Judge Paula Martin met with attorneys in her chambers for a few minutes, and Martin then emerged from her chambers and took a piece of paper into the jury room at 11:25 a.m.
At 11:30 a.m., prosecutors were also preparing a projector to replay video evidence.
Ramona Morgan, 49, is accused of striking and killing construction workers Tyrone Korte, 30, an inspector for the Kansas Department of Transportation from Seneca, and Rolland Griffith, 24, a construction worker for Dustrol Inc. from El Dorado, on U.S. Highway 59 near Pleasant Grove.
Jurors again asked to view a video of television reporters asking questions from Sept. 12, 2007, when Ramona and Sabrina Morgan, Ramona's daughter, were walking into Osage County's courthouse for a first appearance. As they were being escorted in orange jail jumpsuits, Ramona Morgan says she struck metal barricades and that "people" did not cause damage to her truck.
"I did not run anybody over. Those were metal barricades, and you can go look at my vehicle and see the damage. Those were metal barricades," Ramona Morgan said.
She also says they were being set up and people were trying to kill them.
"This is what this it's about," Ramona Morgan said on the video.
Jurors returned to the deliberation room at 11:50 a.m.
The jury of eight women and four men began a second day of deliberation at 9 a.m. Tuesday by hearing a court reporter - for more than an hour - read back the defendant's testimony from Friday. From the stand, Morgan, 49, of Chewelah, Wash., had said she believed people were chasing her and trying to attack her. Morgan has also said she didn't believe she struck any people.
Jurors deliberated for about four hours Monday afternoon, and they also asked for court reporters to read back testimony from construction zone witnesses.
Morgan faces two reckless second-degree murder charges. She also faces an aggravated battery charge for injuring a third worker, Curtis Delzell, a Dustrol Inc. construction worker.
Jurors have the option of convicting Morgan of lesser charges: Involuntary manslaughter or vehicular homicide, which is a misdemeanor.
Copyright 2018 The Lawrence Journal-World. All rights reserved. This material may not be published, broadcast, rewritten or redistributed. We strive to uphold our values for every story published.