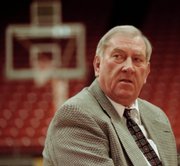 Rex Walters knows firsthand the coaching genius of the late Don Haskins, who won 719 basketball games in 38 seasons at University of Texas-El Paso.
"He was an absolutely unbelievable coach. They absolutely ruined a year of mine," said Walters, the first-year University of San Francisco head basketball coach.
Walters started at guard on a top-seeded Kansas University squad that was stunned by ninth-seeded UTEP, 66-60, in a second-round NCAA Tournament game March 22, 1992, in Dayton, Ohio.
"I thought we were the best team in the nation that year," Walters said of the Jayhawks, who finished 27-5. "Coach Haskins did a really good job. He had good guards. They spread us out, drove us.
"Of course, everybody has seen 'Glory Road' and learned more about him through the movie. The coaching profession has lost a great man," Walters added.
Hall of Famer Haskins, who died Sunday at the age of 78, led Texas Western, later known as UTEP, past Kansas, 81-80, in double overtime, in the second round of the 1966 NCAA Tournament.
His Miners defeated Kentucky in the '66 NCAA title game - one credited for helping break color barriers in college sports.
Haskins used five black starters against Adolph Rupp's all-White UK team, well documented in the 2006 movie 'Glory Road.'
"We were a great pressure team and they had really good guards," said Walters, leading scorer on a 1992 KU team that included Adonis Jordan, Richard Scott, Alonzo Jamison and Eric Pauley. "I'll be honest. I've not watched the tape of that game. I've watched our highlight tape of that season. I turn it off when UTEP comes up.
"We thought we were destined. There is no such thing. On every given night, the best team wins. On that night they were better. The great thing about the NCAA Tournament ... you don't always have the best teams playing in the national championship game," Walters added.
Walters had one year left after the UTEP defeat and made the most of it. He again was leading scorer on a 29-7 KU team that fell to North Carolina, 78-68, in the NCAA Final Four semifinal game.
"It drove us as a team," Walters said of memories of the loss to UTEP. "I've always said in losing to North Carolina I felt we lost to the best team in the nation. I couldn't say that in '92.''
Walters, 38, who went 31-33 as head coach at Florida Atlantic the past two seasons, is beginning his first year as head coach at San Francisco. A San Jose native, Walters is quite familiar with the Bay Area.
"There is unbelievable passion to get the program back to where it was," Walters said of the school that won a pair of NCAA titles in the '50s behind the play of Hall of Famer Bill Russell.
"I love the people I'm working with. I just played Whiffle Ball with the guys. Two years ago you'd never catch me playing Whiffle Ball with my team. I threw a shutout against one team (of Dons players). The other team scored two runs off me," he added with a laugh.
"I want our guys to understand we'll work hard, but there's a time to let loose and have a good time. That's when you get closer as a team."
He said he'd love to perhaps schedule games against KU once he has USF's program on solid ground. Last year, his FAU team fell at KU, 87-49.
"It'd be fun," he said. "Right now all our guys are freshmen in my eyes. I like to say that yes we're building a program but want to win today. One thing I can tell you is the guys will play hard. As far as some of the other things it takes, we won't know until we start practicing. But we will play hard."
lCoaches clinic: KU coach Bill Self will hold his annual coaches clinic on Saturday, Oct. 25. Cost is $80 per coach and includes a ticket to the KU-Texas Tech football game. Information is available at kuathletics.com.
lIn-homes: KU coach Self tonight begins a series of in-home recruiting visits with prospects in the Class of 2009. He will visit Xavier Henry tonight, Daniel Orton Wednesday, Michael Snaer Thursday and Thomas Robinson Saturday. Henry is a 6-6 guard out of Putnam City (Okla.) High; Orton, a 6-10 forward from Oklahoma City McGuinness High; Snaer, a 6-4 guard from Rancho Verde High in Moreno Valley, Calif.; and Robinson, a 6-8, forward from Brewster Academy in Wolfeboro, N.H.
- Assistant sports editor Gary Bedore can be reached at 832-7186.
Copyright 2018 The Lawrence Journal-World. All rights reserved. This material may not be published, broadcast, rewritten or redistributed. We strive to uphold our values for every story published.