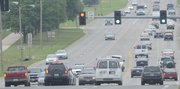 After turning left onto Clinton Parkway from Iowa Street five days a week on her way home from work, Sarah Warbritton thought she had it all figured out.
Then came the repaving machines, the new lane stripes and the second turn lane - all good moves for the inventory specialist at Verizon Wireless, freeing up more space for her to get out of the corner parking lot and on the way across town all the more quickly.
Then the green arrow wouldn't come on - or at least not until the traffic had turned left onto 23rd Street in front of her, the vehicles headed south had passed right beside her, and the others going north had sprinted out ahead of her.
"I've been a little bit confused," said Warbritton, who had grown used to turning at the beginning of the cycle for Iowa Street traffic, not at the end. "I thought maybe it was because it (the turn lane) was new, and the thing was broken or something."
No, it's much less problematic than that.
The turning movements for Warbritton and thousands of others who turn left onto Clinton Parkway from Iowa Street each day were adjusted to reflect a new reality for the intersection since its repaving earlier this summer.
Now that the intersection has double turn lanes on both sides of Iowa Street, there simply isn't room in the middle for all four lanes to go through at once, said David Woosley, the city's traffic engineer. That's why the signals now send turners from the north through the intersection at the beginning, while those coming from the south have to wait until the end.
"The outside left-turn lanes overlap," Woosley said. "Otherwise, those left turns would be turning into one another."
Woosley acknowledges that drivers may be confused when approaching the intersection from the south. Such a "lead-lag" signal pattern for turns is a first in Lawrence, he said, at least when it comes to avoiding potential crash conflicts.
The switch in signals won't be going away anytime soon, either. Woosley said that the only way that both double left turns would be allowed to go at the same time would be if the intersection were expanded, and that won't happen until someone finds some money to pay for widening Clinton Parkway and 23rd Street to make room for additional turn lanes on those streets.
"We've been wanting to do that since the 1990s," Woosley said.
But Warbritton isn't complaining. She already has the extra turn lane she needs.
"I like it," she said. "It makes it easier for me."
Copyright 2018 The Lawrence Journal-World. All rights reserved. This material may not be published, broadcast, rewritten or redistributed. We strive to uphold our values for every story published.