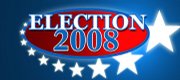 In-depth coverage of the candidates and the issues, all leading up to the Aug. 5 primary and the Nov. 4 general election.
Other news
¢ Republican vice presidential candidate Sarah Palin has agreed to sit down with ABC's Charles Gibson later this week for her first television interview since John McCain chose her as his running mate.
¢ Democrat Joe Biden says he's debated "an awful lot of tough, smart women" throughout his career and next month's vice presidential debate with Republican Sarah Palin will be no exception. But he'd like to know where she stands on issues.
The Democratic senator from Delaware and the Republican governor of Alaska are scheduled to debate Oct. 2 at Washington University in St. Louis.
Albuquerque, N.M. — Barack Obama isn't John McCain's only opponent. Sometimes McCain sounds like he's running almost as hard against President Bush and the Republican Party as he is against Obama, his Democratic rival for the White House.
The GOP is guilty of indulging in a spending spree of taxpayers' money, McCain laments. They haven't solved huge problems such as the looming insolvency of Social Security and Medicare, passing on huge IOUs and perplexing issues to future generations instead of fixing them as they had promised. He doesn't name Bush but the implication is clear: It happened on his watch and he signed bills that made the deficit soar.
"We began to value power over principle," McCain said in Colorado Springs, Colo. Some lawmakers turned corrupt and wound up in jail, he told a rally in Albuquerque, N.M.
"Change is coming, change is coming," McCain promised, projecting an image of independence and political populism.
One of his challenges is to separate himself from the unpopular incumbent in the White House and fight against Obama's charge that a McCain presidency would amount to a third term for Bush.
"On the core issues, the economy and the war, he has been joined to Bush at the hip," said Democratic pollster Mark Mellman. "On the other hand, Bush is a lead weight dragging him down. He has to rely on rhetoric to separate (himself) but he can't separate himself on policies important to the American people."
Eager to keep control of the White House, Republicans are keeping their mouths shut about McCain's barbs.
McCain's criticism rankles White House officials who are eager to build up Bush's legacy. They are quick to strike hard at anything they perceive as criticism from almost any quarter, particularly the media. But Bush aides are giving McCain a free pass even as they quietly grumble about how pointed his attacks have become.
There's no free pass from Obama's campaign.
"Voting with George Bush 90 percent of the time isn't being a maverick, it's being the president's sidekick," said Obama campaign spokesman Bill Burton.
Copyright 2018 The Associated Press. All rights reserved. This material may not be published, broadcast, rewritten or redistributed. We strive to uphold our values for every story published.