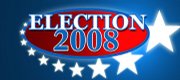 In-depth coverage of the candidates and the issues, all leading up to the Aug. 5 primary and the Nov. 4 general election.
Republican presidential nominee Sen. John McCain and his running mate, Alaska Gov. Sarah Palin, will attend a rally this morning at a retirement complex in Lee's Summit, Mo.
McCain and Palin arrived Sunday afternoon in Kansas City, Mo., but had no events scheduled Sunday night.
They will appear together at 10:30 a.m. today at the John Knox Village, in an event that is open to the public.
Doors will open at 8:30 a.m. on a first come, first served basis.
Copyright 2018 The Lawrence Journal-World. All rights reserved. This material may not be published, broadcast, rewritten or redistributed. We strive to uphold our values for every story published.