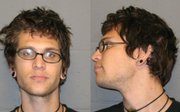 A Kansas University research aide, who is charged with trying to make a drug similar to ecstasy in a campus laboratory, made his first appearance Monday afternoon in Douglas County District Court.
Matthew Schmidt, 29, a medicinal chemistry aide at the university, is accused by District Attorney Charles Branson of mixing chemicals in an attempt to produce methylenedioxyamphetamine, or MDA. The substance is used illicitly for its mood-enhancing and hallucinogenic properties.
The incident occurred on Aug. 21 or Aug. 22 in a lab at Malott Hall, the KU Public Safety Office said.
Schmidt is charged with one count of unlawfully manufacturing or attempting to manufacture a controlled substance, which is a felony. He was arrested Aug. 25 and released from jail after posting $15,000 bond the same day.
His next court appearance is scheduled for 2 p.m. Sept. 23 in front of Judge Jack Murphy.
Schmidt is no longer employed by KU.
Copyright 2017 The Lawrence Journal-World. All rights reserved. This material may not be published, broadcast, rewritten or redistributed. We strive to uphold our values for every story published.